The Charles River Deanery Youth Collaborative gathered 70 kids and their adult mentors for a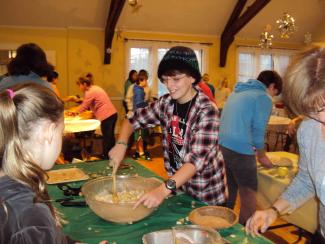 pie-making party at the Church of Our Saviour in Brookline on Nov. 20, including Alexander Feltner-Harrison (pictured), a sixth grader from All Saints Parish, Brookline, on his first pie-making adventure.  "What was truly amazing is that 11 congregations in our deanery were represented," organizer Becky Taylor reported aftewards.  "That's impressive, because it means that pies went to food pantries in Newton Centre, Brookline and Wellesley."
Things got kind of busy so she doesn't know exactly how many pies got made--"My guess is that over 100 pies were made in an hour and a half"--but she does know that they will be appreciated. 
"When I dropped off pies at the Brookline Food Pantry yesterday, the director told me that they would be providing Thanksgiving packages to 170 households," that day, Taylor said.  "This is 30 more than last year's distribution.  When I asked about the demographics of the folks using the food pantry, he told me that more and more they are helping families with children.  This is a sobering fact, and one not limited to Brookline.  I urge you, as you gather at your own Thanksgiving celebration, to hold in prayer those who have less than they need to survive."