The Evensong Choir from Christ Church in Cambridge departed on April 9 for its second international tour. The tour will include singing in some of Europe's most famous cathedrals. The choir will be directed by its founder, Dr. Stuart Forster, and accompanied by Michael S. Murray. The group will include 46 people, including 36 singers and the parish's rector, the Rev. Joseph Robinson.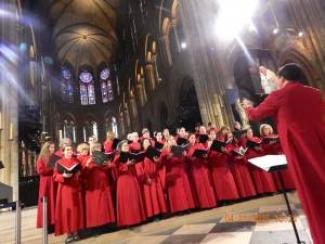 The Evensong Choir at Notre Dame. Photo via the tour blog.
The tour dates and locations: 
Saturday, April 11, at 4:30 p.m. — Concert at Notre Dame, Paris
Sunday, April 12, at 6 p.m. — Mass at St. Eustache, Paris
Wednesday, April 15, at 5 p.m. — Evensong at St. Paul's Cathedral, London
Thursday, April 16, at 5:30 p.m. — Evensong at Ely Cathedral
Friday, April 17, at 5 p.m. — Evensong at Westminster Abbey
According to its "no chorister left behind" policy, the choir raised $40,000 to offer scholarship support to any choir member who wished to participate in the tour but needed financial assistance to do so. The fundraising efforts included a concert of some of the repertoire that the choir is singing on the tour, a dinner with dozens of door prizes, a raffle of a trip to Paris and many generous donations from supporters. The Evensong Choir reached its fundraising goal and every chorister who wanted to go on the trip is going.

A dozen choir members have signed up to post news, photos and video of the tour on their
blog at https://ccchoirtour.wordpress.com/.
The next service with the Evensong Choir at Christ Church (Zero Garden Street) in Cambridge will be at 4 p.m. on Sunday, May 3. After a summer hiatus, Evensong will resume on the first Sunday of each month, beginning in October.  Services last approximately 50 minutes.