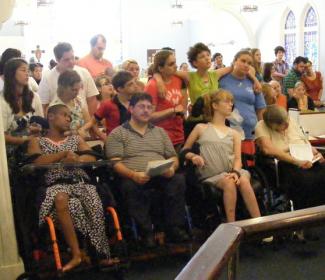 Grace Church welcomed 85 Jabberwocky campers to church on July 18.
Grace Church, Vineyard Haven welcomes Jabberwocky:  This summer, as it does every summer, Grace Church in Vineyard Haven took out its first two rows of pews to make room for wheelchair-bound members of Camp Jabberwocky, the Martha's Vineyard Cerebral Palsy Camp. On July 18, Grace Church welcomed 85 members from the camp to its 11 a.m. Eucharist, 17 of whom use wheelchairs.  Following the service--which included the blessing of the civil marriage of Arlene and Lena Prisco, as well as an offertory anthem of "Amazing Grace" by members of the camp--campers were treated to a special lunch in the parish hall provided by the Parish Hospitality Committee.
 
"Grace Church is forever bound by love and commitment to Camp Jabberwocky, having donated the land on which the camp was built," the Rev. Robert Hensley explains.  As a thank-you gift several years ago, campers donated a handmade pottery Communion service which is used whenever the camp is in session for the summer.
 
"Someone visiting a Sunday celebration of the Holy Eucharist during July or August may find it unusual to find so many differently abled people in wheelchairs singing and clapping along to the music, but it is all part of the summer experience that makes Grace Church such a unique and wonderful place where inclusion is a core value, and everyone, absolutely everyone is welcomed," Hensley says.  "It truly is a vision of the heavenly Jerusalem."