The new stained glass window arrives at Grace Church.
Grace Church, Vineyard Haven has just completed the first phase of a major renovation funded through its parish Together Now capital campaign. This phase included replacing two walls and reworking the windows. The church replaced its existing windows with energy-efficient double-paned windows, and installed a new stained glass window in the parish hall. 
"Huge panels in the old windows had been replaced with ill-fitting Lexan panels that were wasting a lot of energy," said the Rev. Robert Hensley, Rector of Grace Church. "So we're going to have substantial energy savings" 
The north wall of the parish hall was replaced, and faced with new wood shingles that match the exterior of the church. White trim completes the welcoming new façade. 
"We've been really happy with the contractors and carpenters, and architect that we've had," said Hensley. "It was just a plain gray exterior before and now it's really been brought into harmony with the rest of the architectural elements. It's a much cheerier look, and it pulls you in rather than disappearing into the landscape. Now it looks like it was intentional rather than an afterthought."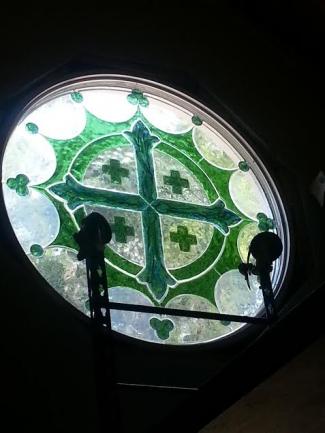 The new window in place. The second phase of this renovation will be the installation of a commercial kitchen. Grace Church makes and sells lobster rolls during the summer months, and serves a weekly community soup dinner in the winter. Hensley said that the church hopes to make the new kitchen available to other community groups. 
The final phase of the planned renovation is the restoration of the bell tower, which was heavily damaged by the hurricane of 1938. Grace Church sits in a historic area of Vineyard Haven, and the congregation hopes to restore the tower to its pre-storm appearance.
--Ellen Stuart