It's a July Monday, the first day of this year's Kids in Community summer day camp program at St. Stephen's Church in Lynn, and things are already in high gear.  Some of the kids are doing indoor activities, some have overtaken the nearby Lynn Common for a boisterous game of Red Rover and another 30 or so, each wielding a pair of drumsticks, are putting down beats on chairs and buckets, as their teacher, Brandon, a Berklee School of Music graduate, leads them through a Simon Says-style lesson.  It's noisy, and it's awesome.

"We're really hoping Brandon will make it as a drummer, but he's also a really good teacher," the Rev. Jane Gould, Rector of St. Stephen's Church, said, having just made rounds to tell everyone to ignore the fire alarms which were being tested today of all days.

This organized chaos doesn't necessarily look like a miracle, but maybe it is.

In a neighborhood and city where there isn't always enough to go around, 100 kids are safe and fed, playing and learning under the watch of 21 teens and young adults with summer jobs, thanks to a patchwork of partnerships, grants, volunteers and the hospitality of St. Stephen's Church.  Everyone here has enough for today.  Everyone seems to have something to give and to get.  And tomorrow they'll get to do it all over again.

Courtesy Photo
"It's one of the densest, poorest neighborhoods of the city, and it's our neighborhood," Gould said of South Common Street where St. Stephen's Church is located.

Gateway cities like Lynn haven't kept pace with the economic boom felt elsewhere in Massachusetts over recent decades, she said, "and as a city of first entry, it's a city with a lot of newcomers, of refugees, from Central America."

"When you look at these kids, you think, these are the kids who both globally and locally are having themselves and their families written off, and yet here they are, playing, having fun," Gould said.  "We can make the difference we can make.  We can do what we can do, and that, for me, is always the [Gospel] story of the feeding of the multitude."

KIC, as it's known for short, started small and simply, about a dozen years ago.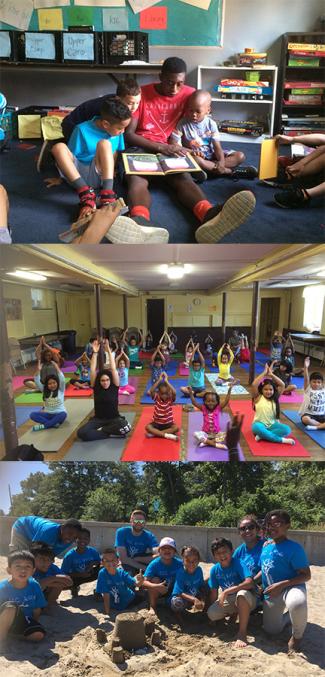 Courtesy Photos

"Kids in Community really came out of noticing in and around the church a whole lot of kids wandering the neighborhood, playing in our parking lot, who had no place to be in the summer, and parents in the parish and folks who worked for agencies saying that there weren't enough subsidized spaces for summer programs for kids," Gould recalled.  "It really was just a response to so many kids being underserved."

KIC provides four weeks of free day camp for elementary school-aged children.  Breakfast, lunch and snacks are served every day, thanks to a partnership with the Lynn School Department and a cadre of volunteers.  There is daily reading time, outdoor play and learning sessions with specialists in things like drama, yoga, art and science.  There are also weekly field trips.

KIC gets support from two other North Shore Episcopal church partners, St. Andrew's and St. Michael's, both in Marblehead, along with the Unitarian Universalist Church of Greater Lynn.

The program trains and employs 18 teen mentors drawn from all five of Lynn's high schools.  They work in pairs and have responsibility for small groups of kids.

"For about two-thirds of them, it's their first job ever," said Audrey Gutfreund, now in her fourth year as KIC's program director.  Managing the teen workers is the biggest struggle and greatest reward of her job, she said.

"Because we hire teenagers who are," she paused, "teenagers, and put them in roles of such responsibility, we're asking them to do something difficult and to work with and communicate with partners and a larger team in a way that a lot of times they haven't necessarily done before.  It encourages a rapid growth in many of them that is really amazing to see.  I'ts cool to see them working with these younger kids so thoughtfully and with such intensity and creativity.  Sometimes teenagers are able to relate to these younger kids in a way that adults have a harder time with.  It's very interesting to see that, and I think it's an unusual experience," Gutfreund said.

In addition to the teen mentors, three college-aged young adults also work on the program staff.  All go through a week of pre-camp training that continues on the job.

"We sort of joke, does Kids in Community exist to be a jobs program for teens and young adults, or does it exist as a place to be for elementary-aged young people for the summer, and the answer is, both are critically important to us," Gould said.  "So many jobs that teens have access to don't really develop skills or help them with vocational discernment or provide training." 

For KIC's assistant director, Sheyla Veras, 23, the program at St. Stephen's provided all three.

She started there at age 16 as a mentor.  "I hadn't had a job before, so I wasn't sure about it at first.  But my family is from the Dominican Republic and I grew up in Lynn and went to programs, so I was one of those kids at one point."  She was drawn especially to teaching drama. 

"For me, personally, I was a kid taken into St. Stephen's, and I was learning so much about myself, things like how patient I was, about managing time, figuring out how to be an example to the kids and inspire them to do what I was doing.  I have such a warm place in my heart for the program.  Everyone here has taught me something," Veras said.  She is about to graduate from the University of Massachusetts-Amherst, where she has been studying psychology and education.

"People come into St. Stephen's through all kinds of doors," Gould said, whether it's through KIC, or the food pantry, a 12-step group, a youth program or a community organizing initiative.  "I think it means that when people come into St. Stephen's, it looks like our city and people are welcomed as they are, who they are," she said.

It's a hospitality that takes many forms, she said, and if it's radical enough, it can be enough.

"God doesn't ask miracles of us.  God asks us to do what we can and to give what we can," Gould said.  "It's not going to be enough, and it's going to feel inadequate and maybe even silly because it's such a drop in the bucket, and yet, if we do what we can and we invite others to join us in doing what they can, then together maybe we can be the miracle that God asks and needs."
--Tracy J. Sukraw