St. Andrew's Church has grown a parish Advent tradition into an event that its wider community in Ayer and beyond looks forward to every year.  The church first held its "In a Manger" exhibit of Nativity scenes in 2002. The exhibit was staged by Carolyn Smith, a parishioner who wanted to find a way to share her personal collection of 75 Nativity scenes with others.  Today, Smith is still the creative mind and the organizer behind the event, but "In a Manger" has grown to include 450 Nativity scenes that belong to members of St. Andrew's and the wider community, as well as those from Smith's personal collection. 
Courtesy The St. Andrew's parish hall staged with over 400 Nativity scenes. "We have them all in our parish hall—which is not the biggest parish hall in the diocese!—and people from the whole community bring Nativities.  A huge one with three-foot figures showed up in the parish hall just yesterday," said the Rev. Joyce Scherer-Hoock, Rector of St. Andrew's.  "Carolyn stages it so beautifully, with candles and music.  It really transforms our sparse parish hall; it's amazing.  People are enraptured by it." 
The "In a Manger" exhibit represents a huge range of cultures and ethnicities, with scenes from 75 countries.  "For me the most interesting part is that although each of the Nativity scenes has the same cast of characters, each one is different based on the culture it represents," Smith said.  "The faces of the people depicted in the scene, the animals that are included, the type of structure representing the manger, the garments the people are wearing and the material used to make the figures and structures--as Joyce says, it's a true representation of the global nature of Christianity."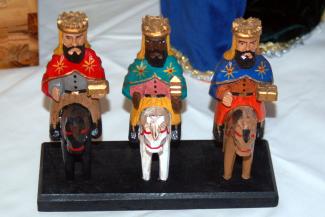 Courtesy
In addition to decorating the hall and grouping the scenes by style or geography, Smith creates a card for each Nativity scene, with a few details about where the scene is from and who it belongs to.  The scenes also encompass a range of artistic styles. 
"We have a kid in the parish who's very mechanically minded, who made one out of nuts and bolts and found hardware, I have a paper one… it goes from very modern and abstract to very traditional.  It's really quite extraordinary," Scherer-Hoock said. 
Over the course of the weekend-long exhibit, hundreds of people will visit St. Andrew's to explore the display of Nativity scenes.  There is a children's corner with a "make your own Nativity" activity table, a Nativity scavenger hunt and a table of Nativities that are made for children to manipulate.  The parish also provides free refreshments.  Scherer-Hoock said that many people find themselves slowing down to take in the expansive collection.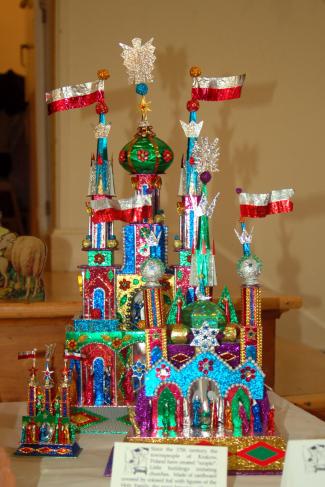 Courtesy
"What happens typically is that people come and they think they'll be there for 15-20 minutes, but they'll be there for hours," Scherer-Hoock said.  "People just become immersed in it.  I've had people come and pound on the doors in the late afternoon, saying, 'Are you closed?  I had to go home and get my neighbor!' It always winds up being longer than we scheduled, because more people keep coming." 
"It took a few years to really take off, but now it's something the whole community knows about," Scherer-Hoock said. "What Carolyn does is extraordinary because of her own collection, of course, but she does it to share it, to give St. Andrew's a signature event in the community to invite people in." 
The "In a Manger" exhibit will take place on Dec. 12 and 13.  The hall will be open on Saturday, Dec. 12 from 10 a.m. to 4 p.m. and Sunday, Dec. 13 from 1 p.m. to 4 p.m.  The event is free and open to all.  Donations will be accepted.  St. Andrew's Church is located at 7 Faulkner Street in Ayer. 
To watch a photo slideshow featuring a selection of Nativities from St. Andrew's Church, click here. 
--Ellen Stuart Kittle