On Sunday, July 26, St. James's Church, at 1991 Massachusetts Avenue, in Porter Square, Cambridge, will celebrate 150 years of ministry with a 9:30 a.m. worship service presided over by Bishop Alan M. Gates.  Then at 11:30 a.m., Charles Sullivan, Executive Director of the Cambridge Historical Commission, and architects Ricardo Dumont and Sarah Forrester will offer a presentation on 150 years of Porter Square and St. James's Church history.  A festive St. James's Day picnic will follow in the church's garden.  All are invited.
A new parish house for St. James's Church is part of a condominium complex to be built on and around the church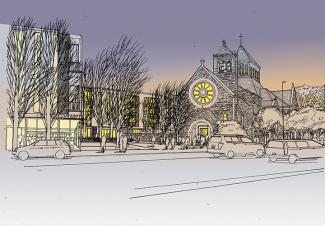 Courtesy Photo Architect's rendering of the proposed condominium-parish house project at St. James's Church, Cambridge property.  According to the 150th anniversary publicity from the parish, the proposed project is a "smart growth" development to help the congregation sustain its "grand old lady" of a sanctuary while continuing to serve the community and world through its North Cambridge food pantry, outdoor church partnership, weekly women's meal and participation in the Greater Boston Interfaith Organization's advocacy work.  The parish also supports a variety of ministries through congregational connections in Haiti, Lesotho, Kenya, Costa Rica and Brazil.
St. James's Church was founded in a blizzard on Christmas Eve in December 1864, the last year of the Civil War.  Its historic sanctuary was designed by Henry Congdon in the Richardsonian Neo-Romanesque style and completed in 1888.
Learn more about the history and redevelopment plans of St. James's Church here.