It's Wednesday evening and dinner is about to be served at St. Bartholomew's Church in Cambridge.

"Chicken and beans and rice tonight," an enthusiastic greeter called out to an approaching visitor on a recent Wednesday.  The church's red doors were wide open.

Inside the church's small kitchen, parishioner Wendy Crawford was expertly stirring steaming pots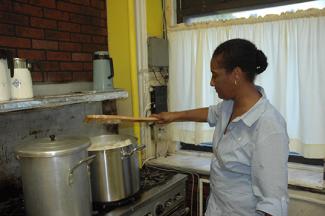 Tracy J. Sukraw Parishioner Wendy Crawford keeps watch over pots of rice. with a gigantic wooden paddle, while nearby, two MIT student volunteers, Sharone Small and Krystal Lai, were lining up pitchers of juice and tying rolls of utensils and paper napkins with pretty bits of yarn.  Deacon Pat Zifcak was up to her elbows in the sink, and senior warden Stephen Mascoll was in the middle of it all, directing traffic:  compost over here, trash can over there. 

About 30 guests were seated at tables in the parish hall.  

What started two years ago this October at St. Bartholomew's as "Feed the Hungry," a weekly meal for the homeless organized by a group of MIT students, has grown into what's now known as the Wednesday Evening Community Meal, serving anywhere from 30 to 100 people every week,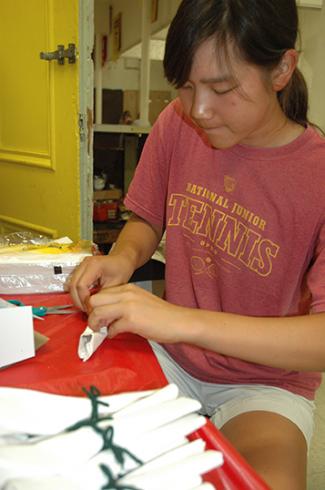 Tracy J. Sukraw Many hands make light work: MIT student volunteer Krystal Lai prepares utensils for guests. depending on the time of the month.

"That first day, 12 people came, and we said, well, here it is, we've started.  Here are 12 people who aren't going to be hungry tonight," the Rev. Leslie Sterling, Rector, said. 

She looked up at the clock--6 p.m. sharp--and excused herself to go welcome the guests and offer a blessing and a few announcements:  restrooms over here, food stations over there. 

She returned to the conversation without missing a beat:  "Now we're seeing not just the homeless but more of the working poor and elderly on fixed incomes, single mothers with children, people who don't have enough to make it to the end of the month," she said.

"The most important thing about the meal, besides honoring the Gospel imperative to feed the hungry, is that it is part of an enlivening of the parish. We've become known in the neighborhood for this meal," Sterling said.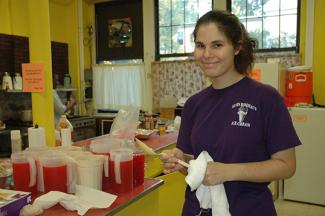 Tracy J. Sukraw MIT undergrad Sharone Small is the meal's student coordinator. Sterling credited MIT student Benjamin Francis for founding the program two years ago; Sharone Small has taken over this year as the student coordinator.  "Community service is important to me, and I like how it gets me away from MIT and doing something with my hands," Small said.

An organization called Food for Free provides produce, breads and grains for the meal, which St. Bartholomew's spends about $100 a week to supplement with meat and other supplies.  That cost puts pressure on the budget, Sterling said, but the meal's increasingly apparent value to the Central Square neighborhood--and to the parish's redeveloping sense of mission--makes it a worthy challenge.

Somewhat unexpectedly, Sterling and others say, the weekly meal is nourishing a new commitment to outreach among church members, something that hasn't always been evident.  In the beginning, it was mostly MIT students putting on the meal; now there is an equal number of parishioners and students volunteering each week.

"It just grew, and I've been so surprised at how many from the parish have come to help.  Our partners from MIT are great, and we all work together to make it happen," Mascoll said.

--Tracy J. Sukraw
Read more about St. Bartholomew's revitalization efforts here.