It has been one year since Episcopalians at St. John's Church in Beverly Farms formed the Syrian Refugee Mission of the North Shore and began collecting warm clothing and supplies for Syrians living in refugee camps.
Since then, the shipments collected at St. John's have grown to include school and medical supplies, diapers and infant formula, and much more, and dozens of churches, schools and community organizations have joined in to help.  Pamela Morss, one of the organizers of the Syrian Refugee Mission, said that 13 churches, six schools and the North Shore Deanery have contributed clothing, supplies and financial support. 
Morss, Gail Campbell and Terry Jennings, all parishioners of St. John's, were first inspired by the "Refugees 101" workshop offered by the diocesan global mission staff in December of 2015.  At the workshop, they learned of a local nonprofit organization called Nu Day Syria, founded by a woman named Nadia Alawa.  Alawa is a Syrian-Danish woman who lives with her family in southern New Hampshire.  She founded Nu Day Syria in 2011, and the aid organization has grown to include emergency relief, provision of water and wells, education and job training, orphan sponsorship and container deliveries to refugee camps. 
"We figured out pretty quickly that St. John's, Beverly Farms was probably not going to have any Syrian refugees resettling [here], so we began to ask what we could do for people in Syria," Morss said.  (According to the Rev. Holly Hartman, a deacon whose diocesan assignment focuses on global mission, no churches in the diocese, to her knowledge, are doing direct service for Syrian refugees. This is mainly because very few Syrian refugees are being placed in Massachusetts so far.)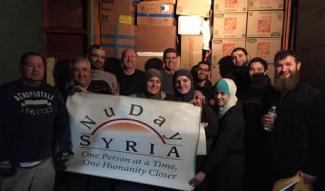 Courtesy Photo Volunteers at Nu Day Syria load a shipping container. The Beverly Farms parish invited Alawa to come and speak there about Nu Day Syria and her work. One of Nu Day Syria's missions is to deliver shipping containers of essential supplies to Freedom Camp, a refugee camp of 35,000 people located in Jissr Shugur in northwestern Syria.
Nu Day taps into local networks in Syria to ensure that the supplies make it safely to the camps. To date, Nu Day has sent more than 100 shipping containers full of supplies to Syria.  St. John's has collected winter coats and clothing, medical supplies, diapers and feminine hygiene products, baby formula and 350 backpacks filled with school supplies. Parishioners and members of the community work together to sort and load the supplies, and then bring them to Nu Day's loading dock in Nashua, N.H. 
Most recently, the Syrian Refugee Mission of the North Shore at St. John's has also been able to fund the construction of a school. St. John's has continued its relationship with Alawa. On her second visit to the church, she told the group about how Nu Day was working on building small concrete houses for refugees in Freedom Camp. The houses cost about $750 to construct. 
"We asked, 'Well, what would it cost to build a school?'" Morss said.
Ten thousand of the 35,000 residents of Freedom Camp are children. The average stay in a refugee camp is 17 years, according to the United Nations, so many refugee children will spend nearly all of their school-age years living in a camp.  
Alawa said they needed $13,000 to construct a school, and the Syria team at St. John's went to work. They applied for and were awarded a $10,000 Mission Tithe Matching Grant from the Diocese of Massachusetts, funded by the Together Now campaign.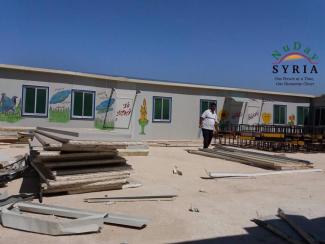 Courtesy Photo One of Nu Day's schools for refugee children The school at Freedom Camp opened in mid-October accommodates 200 children at a time, and there is a morning and an afternoon session, allowing for a total of 400 children to come each day. Both girls and boys are educated at the school.  An anonymous St. John's parishioner has also donated a playground to the school. 
The Syrian Refugee Mission is continuing to raise funds to outfit the school, and so far has gathered 113 bags of cold-weather clothing and children's toys to send to Freedom Camp in January. 
Morss said that the parish and the surrounding community has responded enormously to the opportunity to do something concrete to help the people of Syria.  She said that she is glad to offer an opportunity for everyone to do something to help, even in the face of the daunting and increasingly horrific news from the war-torn country. 
"Everyone is able to feel good, everyone is able to help, whether it's sending a small check or going into their closet and get their kids' coats from last year," she said. 
St. John's in Beverly Farms welcomes donations of clothing, medical supplies and other necessities for Syrian refugees.  For details, contact Pam Morss at pamelamorss@comcast.net. More information about Nu Day Syria is available at www.nudaysyria.net. 
Churches and schools that support St. John's and Nu Day:
Episcopal churches:  St. John's Church in Gloucester; Christ Church in Hamilton; St. Stephen's Church in Lynn; St. Mary's Church in Rockport; St. Mary's Church in Newton Lower Falls; Grace Church in Medford; St. Peter's Church in Beverly; Grace Church in Newton; St, Mark's Church in Southborough; the Church of the Redeemer in Chestnut Hill; St. Stephen's Church in Cohasset; and the Church of Our Saviour in Brookline. 
Topsfield Congregational Church; St. Joseph's Catholic Church, Belmont. 
Manchester/Essex High School; Hamilton/Wenham High School and Middle School; Shore Country Day, Beverly; Esperanza Academy, Lawrence; Landmark Middle School, Manchester-by-the Sea. 
--Ellen Stuart Kittle