St. Stephen's Church in Boston hosted a March 7 community hearing with Boston City Council members on a resolution affirming sanctuary status for Boston Public Schools (BPS).  About 200 people filled the church sanctuary, according to a St. Stephen's Church news release, with students, educators, parents, school nurses, faith leaders and staff from immigrant rights organizations testifying in support of the resolution.
"It has been the toughest part of my career in the last seven years," BPS elementary school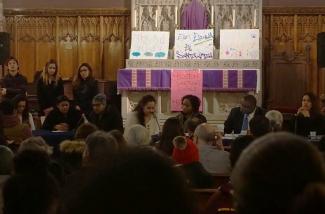 Courtesy Photo The church sanctuary at St. Stephen's was filled for a city hearing on school sanctuary. teacher Verónica Navarro testified, according to the St. Stephen's release. "I don't know what to tell my students. I don't know how to make them feel safe. Becoming a sanctuary school district would give me a concrete reply to assure my students of their safety. It is common knowledge in the education and health fields that students cannot access their cognitive brains if their basic needs aren't met. One of those basic needs is safety. To simplify:  students can't learn when they are afraid."

St. Stephen's Church has a longstanding partnership with the Blackstone School in its neighborhood. 

"What is the definition of sanctuary?" St. Stephen's priest associate, the Rev. Liz Steinhauser, said in her testimony at the hearing.  "A sanctuary is a sacred place, a place where comfort and peace can happen.  A sanctuary is a space of safety.  And a sanctuary is a place that is a refuge, often for nature. It is a place where there is no hunting, there is no predator or prey, there is no 'us' vs. 'them.'  We need our public schools to be sanctuaries and we call on the City Council to pass this resolution."

The City Council unanimously approved the resolution at its regular meeting the following day. Organizers are now calling for a city ordinance to enforce it.