Joshua DuBois, Executive Director of the White House Office of Faith-Based and Neighborhood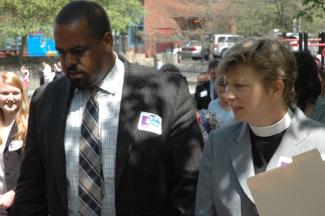 Tracy J. Sukraw Partnerships, on May 24 visited St. Stephen's Church in Boston and the lively Blackstone Elementary School next door to learn about how their partnership is helping to turn around a troubled school and strengthen the neighborhood.
The Rev. Liz Steinhauser (pictured with DuBois) marshaled the troops for a whirlwind tour of both sites for the guests, who also included the Rev. Brenda Girton-Mitchell, Director of the U.S. Dept. of Education's Center for Faith-Based and Neighborhood Partnerships; State Representative Byron Rushing; Boston City Council member John Connolly; and the Rev. Canon Mally Lloyd, Canon to the Ordinary, Diocese of Massachusetts.
"We are going to lift up specific models and communicate that other communities can do exactly what they're doing here," DuBois said.