Forty years ago today the General Convention of The Episcopal Church voted to authorize the ordination of women.  For many of us it is difficult to remember or imagine our church without this expression of wholeness.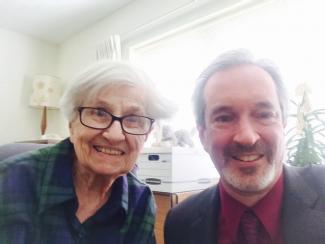 Bishop Gates on a recent visit with the Rev. Elsa Walberg, first woman rector in the Diocese of Mass. I thank God for the bishops and delegates who claimed that gift for all of us 40 years ago. I thank God for all wo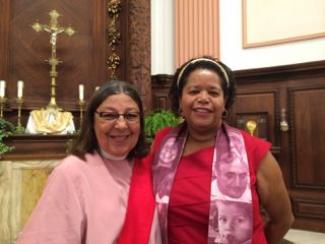 Bishop Gayle Harris and Deacon Ema Rosero-Nordalm at the Sept. 7 diocesan staff Eucharist men in holy orders who have enriched my life and that of all God's people, in this diocese and throughout the church.

Today at the House of Bishops Eucharist, a verse of the familiar hymn had particular poignancy:
One bread, one body, one Lord of all,
One cup of blessing which we bless.
And we, though many, throughout the earth,
We are one body in this one Lord.
Gentile or Jew, servant or free,
Woman or man no more.
Faithfully and gratefully,
+Alan