On Saturday, April 5, somewhere in the sea of electing delegates and prayerful observers from across the diocese, there will be a few of us non-Episcopalians.  The Massachusetts Council of Churches will send an ecumenical delegation to watch and pray with you.  Our intention is that our presence is a sign of our unity in Christ. You do not do the work of being Church alone.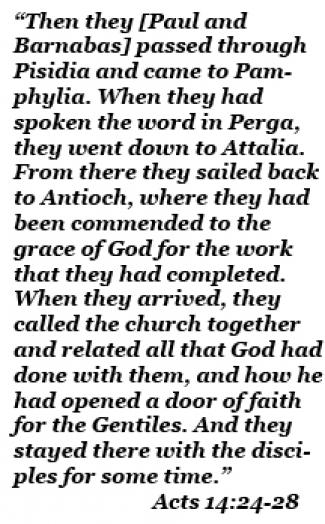 In Acts, Paul and Barnabas strive to connect the divided communities through their visits. Over the past two and a half years, the Massachusetts Council of Churches (MCC) has sent ecumenical delegations to significant denominational events in Springfield, Worcester, Lawrence, Hamilton, Brookline and New Bedford. A Roman Catholic lay leader, a United Church of Christ pastor and a Unitarian Universalist pastor observed the election of Bishop Douglas Fisher in the Episcopal Diocese of Western Massachusetts.  Methodists and Congregationalists witnessed the election of Lutheran bishop James Hazelwood.  Bishop Gayle Harris, serving as president of the MCC, even joined the ecumenical delegation to visit the diocesan convention for the Diocese of Western Massachusetts!  We've not quite traveled as far as Pamphillia and Antioch, but our intention is the same:  to gather the divided Church together and "relate all that God has done for us."  Indeed, God is doing a new thing in Massachusetts.

In the past two and a half years, there have been five new heads of denominations in Massachusetts:  Yearly Meeting Secretary Noah Baker Merrill, New England Yearly Meeting of Friends (Quaker); Bishop Suda Devadhar, New England Conference of the United Methodist Church; State Clerk T.J. DeMarco, Presbytery of Boston, PCUSA; Bishop Douglas Fisher, Episcopal Diocese of Western Massachusetts; and Bishop James Hazelwood, New England Synod of the Evangelical Lutheran Church in America.

Your new bishop will join these faithful shepherds.  With established and new denominational heads, we have church leaders ready to work collaboratively, perhaps catching up our institutions to the cooperation between local churches in many towns.  There is enormous possibility ahead of us.

The divided Church needs to be working together more than ever. Gallup polling found Massachusetts the fourth least religious state:  28 percent of residents identified as very religious, with a national average of 41 percent.  At this point, we are all in the minority. Our separation is both an affront to Jesus' prayer that his followers be one, and organizationally foolish.

You will vote for a leader for your own diocese but you will be electing a leader for the whole of the Church in Massachusetts.  You will vote for an Episcopal bishop but you will lift up a shepherd for the whole body of Christ.  We die and rise together.  You do not do this alone.

--The Rev. Laura E. Everett, Executive Director, Massachusetts Council of Churches
Opinions expressed in Reflections are those of the writers. Submissions are welcome; all material is subject to editing. Submit Reflections for consideration to news@diomass.org.