Food ministry is one of the church's oldest and most consistent forms of mission, and it takes many forms: food pantries, soup kitchens, community meals and many others. Today, food ministry in the Diocese of Massachusetts is deepening and expanding the interpretation of the Gospel imperative to feed the hungry, creating strong partnerships within communities and fostering conversation and collaboration in ways that help break down the barriers put up by traditional charity. Parishes are also integrating social justice into their discussion of food ministry, not only addressing hunger but also beginning to work on the deeper societal issues that cause it.
Food pantries and meal programs provide vital sources of food to many individuals and families, but in many cases it goes beyond simply meeting the physical demand of hunger.  
"It all comes from this fundamental shift—not only 'how can we be loving and nice to these people' but 'how can we invite our neighbors to be partners in ministry with us'," said the Very Rev. Jep Streit, Dean of the Cathedral Church of St. Paul in Boston, which has hosted a Monday lunch program for 30 years with several parish partners.  The Monday lunch is led by the MANNA Leadership Team, which includes homeless and formerly homeless individuals. 
"Jesus didn't work alone, and he invites us to work with him," said the Rev. Cristina Rathbone, missioner at the Cathedral. "And the 'us' is not just those who are materially wealthy, it's everyone. Creating these opportunities to allow everyone to give and receive is the work of the church—to create a space of mutual giving and mutual receiving through the spirit which is love." 
This comes at a time when church food ministry is essential for many Massachusetts residents. Project Bread, a nonprofit that works against hunger and its causes, noted in its 2013 annual report that "700,000 children and adults [in Massachusetts] can't confidently predict where their next meal is coming from—a number almost 40 percent higher than it was prior to the recession and almost 80 percent higher than at the beginning of the last decade."  (Project Bread has given grants to many of the programs mentioned in this article.)  Here are three profiles of churches in the Diocese of Massachusetts that are applying creativity, compassion and a deep sense of community to feed the hungry in their midst.   
A deanery united by food ministry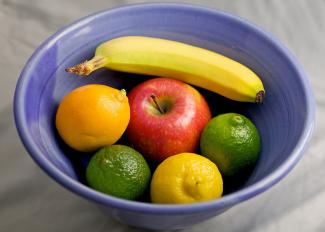 At St. Luke's-San Lucas Church in Chelsea, a food ministry that began in a file cabinet has grown into a newly renovated space that includes a walk-in refrigerator and walk-in freezer.  The St. Luke's food ministry was formalized when the Rev. Edgar Gutiérrez-Duarte became vicar in 2007, as the nation was entering an economic recession and more and more families were struggling with hunger. "I saw there was a lot of hunger in Chelsea, lots of people complaining of not having enough food."  Gutiérrez-Duarte said. Parishioners told Gutiérrez-Duarte that his predecessor, the Rev. Thomas Callard, had stored a small amount of food in a file cabinet, to distribute in emergencies. Gutiérrez-Duarte asked parishioners to start bringing food to the church so that they could maintain an ongoing supply of food to give out. 
"Originally we were serving about 10 families, but that quickly grew," Gutiérrez-Duarte said.  With a grant from Project Bread, Gutiérrez-Duarte installed shelving in an office and began operating a food pantry. Over time, the pantry added several donated refrigerators and freezers that were placed in locations around the building. 
Currently, the St. Luke's food pantry serves about 250 families, or 1,000 people a month, from Chelsea, Revere, Everett, Malden and East Boston. The pantry receives about 3,000 pounds of food each month from the Greater Boston Food Bank, BJ's Wholesale and Food for Free, a Cambridge organization that "rescues" fresh food that might otherwise go to waste from farms, stores, bakeries and more. 
Thanks to a major grant from the Diocesan Council, St. Luke's will soon open a completely renovated food pantry, which is a major improvement for several reasons. The freezers and refrigerators that were once scattered throughout the building have been replaced by a walk-in refrigerator and walk-in freezer, which is safer, more energy efficient and allows the pantry to offer more fresh and frozen foods. 
The new space is also more welcoming and dignified than in the past, as well as safer and more accessible to those with mobility impairments. The pantry has moved to a larger space on the first floor, which is more accessible than the past location on the second floor.  
"In the old space, we could have 50 people in a corridor lining up to get food, people coming in and out, there were stairways to negotiate which was very difficult for people with canes and walkers, and particularly troublesome in the winter," said Gutiérrez-Duarte. 
About four years ago, parishioners from the Parish of the Epiphany in Winchester offered their help to the food pantry as a Lenten discipline. As it turned out, their commitment did not end at Easter—today a group from Epiphany arrives every Friday to unload food and prepare the pantry for Saturday, when the pantry is open to the community.  
In 2008, St. Luke's, Epiphany and three other Mystic Valley Deanery churches formed a partnership to run the soup kitchen, which had been privately run in the past. St. Luke's provides the food, recipes and the kitchen, and a group of volunteers from St. Paul's Church in Lynnfield, Trinity Church in Melrose, Epiphany in Winchester, or Grace Church in Medford cooks, serves and cleans up breakfast and lunch on rotating Saturdays. St. Paul's, Lynnfield also brings food from the church garden to contribute to the meals.  
Each church has a representative on the Community Dining Committee, which runs the community dining room. Food ministry has planted the seeds for many new relationships to grow among the churches. "The food pantry and soup kitchen have created a special bond between the four churches," Gutiérrez-Duarte said. 
St. Luke's has held shared services with St. Paul's, Lynnfield, and a group from St. Luke's has gone to Lynnfield to help work in the church garden. Last year, youth from St. Luke's and Grace Church, Medford collaborated to form a worship rock band. "The partnership that was initially called to just run the kitchen has given us a chance to know each other much better and become a source of strength," Gutiérrez-Duarte said. 
About 90-110 people typically come to St. Luke's for breakfast, and 60-90 come for lunch. Many guests are from the senior citizen center near the church, and Gutiérrez-Duarte said that many people come for fellowship as much as food.  "Many of our users are people who are lonely," he said. "They have a sense that they belong to St. Luke's even if they don't come to worship here—they come here and they eat, they meet their friends. A number of our members have come from the users of the food pantry and the soup kitchen."
The construction project halted kitchen operations temporarily, and use of the pantry was limited. Nonetheless, St. Luke's continued to distribute food out of the sanctuary, still feeding nearly 1,000 people a month. Gutiérrez-Duarte recalled Bishop Tom Shaw's dedication to the church's renovation. 
"Bishop Shaw will forever be in our memory, and we plan to rededicate the parish hall in his name, because he believed in the expansion project and in the work that needed to be done here," he said. "He is a source of inspiration and gratitude to the diocese for support of our ministry." 
"We want to be faithful to the call to feed the people in whatever way we can," said Gutiérrez-Duarte. "Jesus said feed the hungry, so we're doing it physically and opening the door to feeding them spiritually. People come here to be fed, and clothed—they come here to have their physical needs met, and at the same time we open our sanctuary and welcome people.  Part of the Gospel imperative to go out and feed the hungry is to bring the love of Christ and the ministry of hospitality into the community. The table is the kitchen but it's also the altar." 
Feeding the five thousand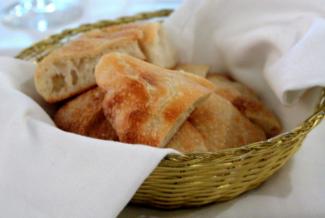 Shortly after she arrived at St. Mark's Church in Westford as priest-in-charge, the Rev. Suzanne Wade (recently installed as rector) challenged the congregation to take its commitment to food ministry to a new level by feeding 5,000 people by Advent 2012. 
"It seemed like an impossible number, but my direction was simply to offer what we had and see what God could do with it," Wade said.  The parish met the challenge by adding more projects and events to its existing work against hunger: "We raised money through a Hunger Brunch to address famine through Episcopal Relief and Development; held an additional food drive for the local food pantry when the need was greatest and increased our weekly donations through sustained reminders; participated in a Lenten fast where we gave up a favorite regular purchase (like morning coffee) and contributed the savings to food ministries; and increased the number of St. Mark's parishioners participating in the Walk for Hunger," Wade said. 
The parish met its goal two months before the start of Advent in 2012. Although the season passed, the commitment remained.  Wade said that the church has maintained the increased commitment to food ministry since the initial, galvanizing push to feed the 5,000. Today, St. Mark's is active at the St. Paul's Kitchen at Eliot Presbyterian Church, where it cooks and serves a meal once a month. 
"We've been trying to enhance our ministry so that we are joining with the people we're serving, engaging them in conversation, learning about their lives, finding out what their hopes and expectations are--why they come to the meal, what they like about the meal," Wade said, "Many folks in Westford don't have a lot of direct relationship with people who may rely on food pantries or soup kitchens, so that conversation helps us be more in tune to the needs of the community." 
Some of St. Mark's youngest parishioners are the impetus for collecting food. The preschool makes regular contributions to the Westford food pantry, with a creative spin: When the preschool learns about a letter of the alphabet, the families are asked to bring in a food item that begins with that letter. The congregation has joined into the alliterative fun, as well. 
"We've been inviting the congregation to join the preschool in that, and it makes [the preschoolers] feel good to see members of the church bringing in different kinds of soup when the kids are studying the letter S," Wade said. 
About 20 years ago, St. Mark's began hosting an annual chocolate festival, an event that Wade said is by now a Westford institution. Held on the Saturday before Valentine's Day, the festival typically raises at least $2,000, which goes to the Open Door Food Pantry in Lowell. "We really do draw from the whole community for this event," Wade said, "It has become harder to get local businesses to support church activities, many are very cautious about it—but we have local businesses bring their best chocolate dishes, and Nashoba Valley Tech's culinary arts class will bring their chocolate creations." 
The festival is itself a bit of a loaves-and-fishes situation: "We always worry that we won't have enough, but then there's always trays and trays of desserts leftover," Wade said. "All of the desserts that are leftover go to Middlesex Transitional Housing, to be dessert for their meal that night—a treat for folks who don't often get that wonderful, sustaining chocolate." 
Recently, St. Mark's has been attempting to expand its ministry with the community served by the meal at St. Paul's Kitchen, to bring more conversation and mission into their work. The parish is making a concerted effort to spend more time simply sitting and talking with guests at the Eliot meal, fostering a spirit of community and accompaniment instead of traditional charity. 
"In communities where people have been very fortunate, they don't always see and recognize the way that systems allow injustice [to continue]," Wade said. "For us, those conversations, that accompaniment, is a way to see the need for transformation in our society as well as transformation within ourselves." 
This desire to be in community instead of charity with the people they serve was the spark for "Eat and Share," an event that St. Mark's hosted with the Mission Institute on Nov. 15. The event featured a discussions about theology and social justice—why choose to be in mission together with the vulnerable, rather than fostering an "us and them" atmosphere—as well as practical strategies for working in and listening to unfamiliar communities. 
"A lot of the time what keeps up from having those conversations is that we just don't know how to get those conversations started," Wade said. "And addressing questions about that is part of equipping and empowering people to do mission." 
Training people in how to start these conversations is not always easy, but Wade says it is truly the first step in understanding one another and moving towards a more just world. 
"When you know people's stories, if you understand what they're struggling against, it's easier to see the need for change and social justice as well as good works."
Delivering crucial nutrition for kids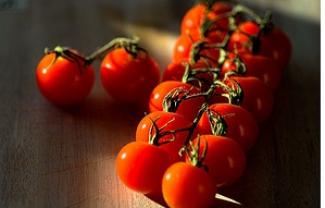 The Food for Kids program, based at the Church of the Holy Spirit in Orleans and extending throughout the outer Cape, is a new food ministry that focuses on bridging the gap that children from food-insecure families often experience in the summer, lacking the meals usually provided by free and reduced lunch programs at school. The primary financial support for Food for Kids comes from the U.S. Department of Agriculture's Summer Food Service Program, which funds regional sponsors to make and distribute healthy meals to children in low-income areas. 
The church program was founded by Ruth Campbell, a parishioner of Holy Spirit who ran a similar program in Springfield, Mass., for 15 years. Her proposal for Food for Kids won Episcopal City Mission's 2012 parish enterprise competition, which provided vital grant money that gave the program the resources to get started. Food for Kids opened for its first summer in 2013, and served 9,000 meals at four meal sites. In just one year, the program expanded dramatically, and Food for Kids served 20,000 meals at 11 sites in 2014. 
"When a church or a nonprofit does [Summer Food Service Program], they are unique in that they're a lot more flexible than a school—the schools tend to do it in the schools, whereas we go out into places where recreation programs are already happening, where the kids already are," Campbell said. "The program has so many good parts in addition to getting food into kids stomachs: it's the experience of being together, it's the security of knowing that they're going to eat today." 
Children at Food for Kids receive a balanced lunch that complies with the USDA's nutrition standards. Every day during the summer, a group of volunteers meets at the Church of the Holy Spirit to prepare and pack breakfasts, snacks and lunches. This year, local farmers' markets began providing donations to the program. After the markets closed for the day, coordinators donated zucchini and baby tomatoes, which along with hummus became part of a healthy lunch or snack. 
Volunteer drivers deliver the meals to 11 sites across the outer Cape, some traveling as far as 30 miles. If children are going to be spending their day on a field trip, volunteers will even meet their bus and distribute lunches for kids to take with them. 
"The distances [on the Cape] could have been an issue, but because of our incredible volunteers it wasn't really a barrier," Campbell said. "At first I thought, maybe it will just be a small program, we'll just do it around Orleans, but it has just taken off."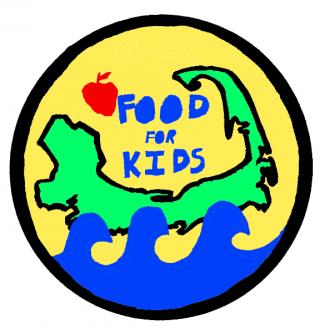 The Food for Kids logo, designed by siblings Ashley (13) and Christian Chung (7) from Church of the Holy Spirit. The Church of the Holy Spirit partners with several churches and faith-based organizations: The Federated Church in Orleans, St. Christopher's Episcopal Church in Chatham, First Congregational Church in Chatham, the Nauset Interfaith Association and "The Network," a new organization partnering faith-based organizations and human service agencies on the lower/outer Cape which includes the eight towns served by Food for Kids. 
Food for Kids has about 90 volunteers, 40 of whom are kids and youth.  The youngest volunteer is five, and the oldest is 93. 
"The woman who is 93 lives on her own, still drives, and she comes and opens the brown paper lunch bags and lines them up. That really takes time, to line up the bags so we can start filling them, and so she comes every day and very gently, very quietly opens up every bag," Campbell said. "Being with these multi-age groups all working together is an incarnational experience of Christ. It sounds crazy, but I can feel a sense of a presence, just walking around when everyone is there working together."  
Campbell said that the Cape is a unique place to confront issues of poverty and hunger. The tourism-driven economy, coupled with a high cost of living, results in widespread but often invisible hunger. 
"On the Cape, because it's kind of a touristy place, poverty is almost denied," she said. "It's fascinating to see where the poverty zones are in these towns. Chatham has a huge one—you look at a map and [the poverty zone] usually starts just one street away from the main street in these tourist towns. In Springfield, for example, everyone acknowledges that these programs are needed, but that is not the case here."
The reality is that towns on the Cape have free or reduced lunch enrollment numbers that equal or even surpass many more central towns. Provincetown currently has over 40 percent of school-age children enrolled in the free or reduced lunch program, according to Massachusetts Department of Education statistics from the 2013-14 school year.  
The rural geography of the Cape can make feeding programs a challenge, which is why Food for Kids works with existing summer programs to reach hungry kids. "Kids on the Cape can't really walk anywhere on their own," Campbell said. "When I worked in Springfield, kids could be outside, in parks…anywhere we put down a cooler, we'd have hungry kids."
Many Cape parents are employed by the service industry, which can mean that they work 2-3 jobs in the peak summer months, and sometimes not at all in the winter. This makes summer recreation programs and camps essential. "The need for childcare is crazy," Campbell said. "These different camps and recreation programs become the linchpin for these families, allowing parents to work." 
This summer, Food for Kids served 11 sites in Provincetown, Truro, Wellfleet, Eastham, Orleans, Brewster, Harwich and Chatham. Most of the sites are located in areas that are considered poverty zones according to census data. The USDA allows these sites in poverty zones to be "open sites," which means that all children are welcome to have a meal and there is no need to prove their eligibility for free and reduced lunch. Parents can bring their kids to these sites to get a meal even if the child is not participating in the recreation program or camp. Food for Kids also supplies food to some "closed sites," where all of the children in the recreation program qualify for free and reduced lunch and the meal is only for children in the program. Food for Kids has received grants from Project Bread and two from the Department of Elementary and Secondary Education that allowed it to give out 2,000 children's books. 
"We put special golden coupons in some of the lunch bags, and when a child finds a coupon they can come and pick out a book to keep--our site supervisors make sure that the coupons get spread around," Campbell said. "I wish people could see how much the kids treasure those books." 
Campbell noted that the high cost of living on the Cape is not always factored in when the federal and state governments calculate who qualifies for assistance. 
"Some places use the school lunch figures [to determine need], and to qualify you have to be below a certain income," she said. "It costs 30 percent more to live on the Cape—but the guidelines are the same everywhere. So you have this group of families that don't qualify for anything, but they're struggling. There were two places [this summer] where kids were going to fall through the cracks and not be able to get lunches." 
Food for Kids provided lunches for all of the kids at these two sites, although only a few could be reimbursed through the USDA funding.  There has been an outpouring of private donations that will allow Food for Kids to bridge gaps like this, and to ensure that they have money to start up in the summer. A couple who got married at the church in September asked all of their guests to donate to Food for Kids in lieu of gifts, which resulted in a total donation of $5,000. 
"This year we received over $16,000 in donations to put into a fund, so that we always have enough money at the beginning of the summer to purchase the food," Campbell said. "We get a little money from the state at the beginning, which lasts about two weeks, and we don't get the first reimbursement check until the first week of August, so it's critical to have some funding in place."
Campbell credits the Episcopal City Mission (ECM) parish enterprise contest with giving Food for Kids the resources it needed to get started. "ECM was really the key," she said. "It's an illustration of how ECM encourages parishes to do mission work at the local level, right in their neighborhoods." 
Through their work feeding the children of the outer Cape, members of the Church of the Holy Spirit have built deeper relationships both within and beyond the church. 
"I sense that people in the parish feel that they're really doing something, because it's right here on the local level, it's really community organizing," Campbell said. "The bonds that happen every day as everyone works together really strengthen the parish. People from the community came and worked too, and we had a few new families come to the parish. Not that that's the main goal, but those wonderful things happen in addition. We're connected by doing this work." 
Campbell welcomes questions from churches or individuals who would like to learn more about how to use or support the Summer Food Service Program in their region. "It's my dream to spread the word about this program to the diocese," she said.  She can be reached at rwcampbell@verizon.net. 
###
The many forms that food ministry takes is evidence of the the wide-ranging hunger across eastern Massachusetts, but many Diocese of Massachusetts churches are living out the Gospel imperative to feed the hungry with ingenuity and community spirit. Whether urban, suburban or rural, churches of all shapes and sizes can make a difference in fighting hunger and addressing its causes. 
The Rev. Suzanne Wade sees it as a multilayered responsibility: not only addressing the immediate need of hunger, but also facing its systemic causes. "God calls us to be charitable, to do good works, and that's powerful in of itself--the sense of service, and of offering what we have to God and to those who are in need," she said. "But given the way class structures are in the United States, social justice is sometimes a harder challenge for us. Jesus calls for us not to just be kind to people in need, but to change systems that leave people unable to meet their basic needs." 
Stay tuned: The Mission Institute and the Cathedral Church of St. Paul are planning to offer more "Eat and Share" workshops like the recent session at St. Mark's Church in Westford. Upcoming workshops will be hosted near Boston and Taunton, and will be posted on the Mission Institute's Web site when dates are available. Churches that may be interested in hosting a workshop should contact the Rev. Liz Magill at LMagill@eds.edu.
-- Ellen Stuart Kittle