Six hundred Episcopalians are expected to convene at the Cathedral Church of St. Paul in Boston Nov. 4-5 to take up the annual business of the Diocese of Massachusetts, this year to also include two special events:  a big farewell to a much-loved bishop as he retires and a long-anticipated kick-off of an ambitious fundraising campaign deemed comprehensive in its reach.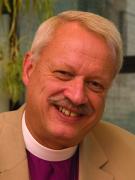 Bishop Bud Cederholm Diocesan Convention will celebrate and honor the ministry of the Rt. Rev. Bud Cederholm as he retires after 40 years of active ordained ministry, nearly 11 of them as bishop suffragan. There will be a reception and dinner at Fenway Park honoring Cederholm on Friday evening, and he will preach at the closing Eucharist on Saturday, which marks the official end of his full-time ministry.  The offering collected during that service will go toward renovating the lake house at the diocese's Greenfield, N.H., camp and conference center into an energy-efficient retreat and sabbatical residence, to be named in Cederholm's honor.  (Read and post retirement greetings for him here.)
The convention program also includes the official public launch of "Together Now"—the diocese's $20-million fundraising campaign for an array of diocesan initiatives for building up congregational life through mission, stewardship and collaboration.  The amount raised to date during the not-very-quiet quiet phase of the campaign will be announced, and convention-goers will learn about how their congregations can both participate in and benefit from the campaign initiatives.
The cathedral's congregations are looking forward to welcoming members of the diocese home to their cathedral church, said the dean, the Very Rev. Jep Streit, following several years of Diocesan Convention being hosted in various locations around the diocese.
"We have been meeting and planning for five months and our hope is to welcome everyone with such enthusiasm that they won't want to leave on Saturday afternoon," Streit said.  "I myself can't wait to present the faithful members of our five worshiping communities who have so generously committed their time and energy to help."
"Not an extravagant budget"
Convention will vote on the proposed diocesan budget for 2012, whose balanced total of $8,078,048 comprises $6,329,491 in core revenue and expenses (compared to $6,297,212 in 2011) and another $1,748,557 that is supplemental; $342,000 of the supplemental amount is contingent on whether or not funding gets secured in the year ahead.
The total budget reflects an increase in transparency not spending, according to diocesan treasurer Jim Gammill, since previous years' budgets have not detailed the supplemental side of the financial picture.
"In this year's presentation of the budget we were able to talk about all aspects of diocesan operations and provide the same level of detail and transparency about the supplemental as the core," he said. 
The supplemental budget is supported by the bishop's discretionary funds, grants and other fundraising efforts, including the Annual Fund, and special draws on diocesan reserves, such as the proceeds from closed churches.  The core budget is funded by the relatively more predictable income from assessments, other congregational contributions and endowment draw. 
Projected assessment revenue for 2012 is down about $200,000.
"It's important for the diocese to realize that the 2012 assessment revenue is based on what the parishes were doing back in 2009, which was a financially challenging time for the whole country," Gammill said.  "This budget was constructed under those financial constraints, so we as a Budget Committee and Diocesan Council are thrilled to be presenting a budget that supports all the things we think we should be doing while still being faithful to the assessment formula and dealing with less assessment revenue.  This is not an extravagant budget," he said.
One resolution, one canonical change
One resolution, focused on ministry with the elderly, has been put forward for Convention's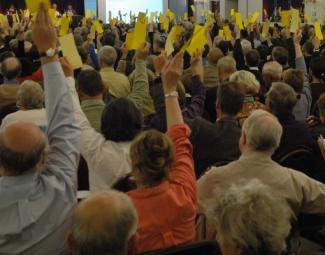 consideration.  Proposed by the Rt. Rev. Gayle E. Harris, Bishop Suffragan, and the diocese's chaplains to retired clergy, the resolution seeks to increase not only awareness about the issues that face the elderly but also ministry sharing within deaneries.  The resolution would establish in each congregation a committee for implementing such ministry.
"We feel this is an important area for ministry not only because of the proportion of older people in our pews but also in the wider congregation who can't be in church any longer," the Rev.  Michael Shirley, one of the chaplains, explained. 
It's also an opportunity for collaborative ministry, he said.  "What we're looking at is the prospect that a lot is already going on in individual parishes and that there are a lot of resources that can be shared on a regional basis.  That's what worked well in the past when the diocese had a more active ministry with the aging, and that's why we have deaneries and a diocese," Shirley said—to bring people and resources together in shared ministry around common need. 
One canonical change also will be considered at the convention.  If approved, it will transfer oversight of matters pertaining to the compensation and benefits of lay and ordained employees from the Commission on Ministry to the Diocesan Council.
Standing for election
Standing for election as alternate clerical deputies to General Convention (four to be elected) are the Rev. Edwin Johnson (St. James's Church, Cambridge), the Rev. Robert Hensley (Grace Church, Vineyard Haven), the Rev. Holly Antolini (St. James's Church, Cambridge), the Rev. Kathleen McAdams (Ecclesia Ministries, Boston) and the Rev. Edgar Gutierrez-Duarte (St. Luke's Church/Iglesia San Lucas, Chelsea). 
Nominees for lay deputies to General Convention (four to be ranked) are Lallie Lloyd (Trinity Church, Boston), Rebecca Alden (St. David's Church, South Yarmouth), Helen Gordon (St. Barnabas's Church, Falmouth) and Elizabeth Graham (Grace Church Medford and The Crossing, Boston).
Running for lay member of Standing Committee are Sharon Li (Cathedral Church of St. Paul, Boston) and David McKay (Christ Church, South Hamilton).  Nominees for clerical deputy to Provincial Synod are the Rev. Victoria Pretti (All Saints' Church, West Newbury) and the Rev. Phillip Jacobs (Trinity Church, Canton).
--Tracy J. Sukraw
Convention materials are available here.