Celebration, leave-taking and a sense of both opportunity and challenge were in the air as 600 clergy and delegates took up the annual business of Diocesan Convention this year alongside a big farewell to a beloved retiring bishop suffragan and the launch of an ambitious fundraising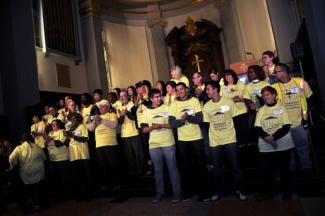 Katie Ernst Convention recognizes cathedral volunteers for their hospitality. campaign. 
The diocese's Cathedral Church of St. Paul in Boston hosted the Nov. 4-5 event, with dozens of volunteers representing five of the cathedral church's worshiping communities offering hospitality and helping to lead the worship services over the course of the weekend.
(Find convention photo galleries here.)
"Not goodbye"
In his sermon at the closing Eucharist, the last of his official full-time ministry before retirement, Bishop Bud Cederholm preached about his desire for the church he's served through 40 years of active ordained ministry—all but 12 of them in his native Massachusetts and nearly 11 as bishop suffragan.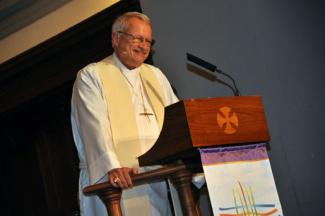 Katie Ernst Bishop Cederholm gives the closing sermon. "I dream of a church whose spirituality is one of abundance and not scarcity so that we can not be afraid to give, not only of ourselves but of our wealth and our time and our talents.  I dream of a church where the ministry of all the baptized is celebrated, where all the baptized are honored and valued for the gifts that they have," he said.
"This is not goodbye," he said, referring to his "encore ministry" in February when he plans to return to work two days a week to assist with specific congregational development projects.  (Watch video of Bishop Cederholm's sermon here.)
Hundreds of people of all ages joined Wally the Red Sox mascot in honoring Cederholm and his family during a Friday evening reception at Fenway Park, followed by a dinner and program of tributes.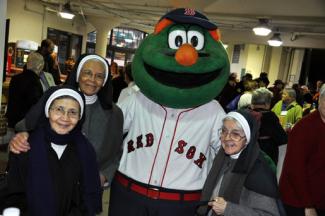 Katie Ernst Sisters of the Order of St. Anne joined Wally at Fenway for Bishop Bud's retirement party. On Saturday, the Rev. Stephen Ayres, the vicar of Old North Church and dean of the Boston Harbor Deanery, announced that clergy in the diocese had given $70,000 toward renovating the lake house at the Barbara C. Harris Camp and Conference Center into an energy-efficient retreat and sabbatical residence, to be named in Cederholm's honor.  The nearly $6,000 offertory from the Convention Eucharist also will go toward that project.
"One of the things he's done, corporately and individually, is touch us again and again with Jesus," Bishop M. Thomas Shaw, SSJE said of Cederholm during his meditation on Friday.
Healers, like Jesus
Shaw gave two meditations focused on Jesus' ministry as a healer and how individuals and congregations continue to carry that healing power forth into today's world.  "Every one of us here has been chosen and empowered by God through the Holy Spirit and Jesus Christ to do the healing of the world," he said. 
He described his recent visits to Occupy Boston and Occupy Wall Street sites and the hopelessness he sensed among protesters there, especially debt-burdened college students and those who are unemployed.  "Somehow the system isn't working for them and for a whole lot of other people in this country as well.  I'm not saying who or what system has caused this state of affairs, but I know that Jesus calls us to heal the person and to heal the system," he said. 
The work of healing framed every day of Jesus' life, Shaw said.  He asked those gathered to reflect on individual experiences of being healed and bringing healing to others, and he went on to frame the work of Diocesan Convention and the potential of the comprehensive fundraising campaign being launched at the convention in the same way.  "It's all about what we're doing together to heal God's broken world and give people a sense of their dignity and worth in Jesus Christ," he said.  
In his second meditation, Shaw talked a good deal about money, about its spiritual value and about his own giving to the comprehensive campaign as "a concrete way I've lived into the trust and dependence that I have in God."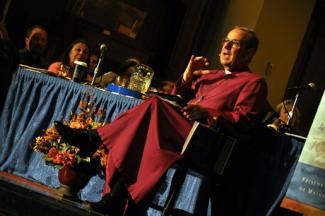 Katie Ernst Bishop Shaw gives the first of two meditations on healing. "I believe that God can take my offering, your offering, the efforts that we make over the next five years in initiating these [campaign] programs, and I think, I know, that God is going to grow that seed into something huge, something that's beyond our wildest expectations," Shaw said.  (Listen to Bishop Shaw's convention meditations here.)
Together Now launched
The convention was the official public launch of Together Now, the diocese's $20-million fundraising campaign for an array of initiatives intended to build up congregational life and mission through collaboration and by expanding the reach of successful diocesan programs.
Shaw announced that nearly $8 million had been raised prior to the public launch, including a $1 million gift from Episcopal City Mission. 
The campaign will fund initiatives in five areas:  $2 million as a tithe for global mission work; $2 million for environmental stewardship through "green" grants and loans; $4.5 million to create regional "mission hubs" as well as a mission institute (in collaboration with Episcopal City Mission and Episcopal Divinity School); $7.5 million for ministry with children, youth and young adults, including the Life Together young adult intern program, campus ministries and the Barbara C. Harris Camp and Conference Center; and $4 million for renovations to the diocese's Cathedral Church of St. Paul in Boston.   (Read more about the campaign launch in a related story here.)
Additionally, the campaign includes an opportunity for congregations to run their own fundraising campaigns alongside the diocesan one, with professional counsel provided.  Participating congregations keep 70 percent of what they raise in their respective collaborative campaigns and give 30 percent to the diocesan campaign. 
Over the course of the two days, convention-goers heard about each of these campaign initiatives through personal stories shared by people whose lives and congregations have been changed by ministries connected to the campaign.  (Watch video of the campaign presentations here.) 
So voted
During its business sessions, Convention approved the 2012 diocesan budget and passed a shortened version of a resolution on developing ministry with the elderly.
Following several questions and comments from delegates regarding process and format, Convention approved the 2012 budget with no debate.  Balanced at $8,078,048, the 2012 budget comprises core revenue and expenses of $6,329,491 and supplemental ones of $1,748,557; $342,000 of the supplemental amount is contingent on fundraising in the year ahead.
After the vote, Starr Anderson, a Diocesan Council member from St. James's Church in Groveland,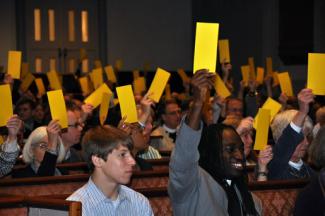 Convention takes a vote. asked delegates to put their money where their voting cards were by contributing to the Diocesan Annual Fund, which she described as an important supplemental funding source for strategic ministries such as the B-SAFE summer program for city children, the Urban Residents program and Life Together young adult internships.  She urged delegates to invite their congregations to give as well.  "It is truly a mission offering we can get our hearts around," she said.  (Find the Annual Fund bulletin insert here.)
The single resolution that came before Convention raised a half-hour's worth of discussion as 22 delegates and clergy spoke about the importance of ministry with elderly people but debated whether and how Convention should direct congregations in the diocese to develop and implement such ministry.
A variety of concerns were voiced on behalf of a growing elderly population—ranging from isolation and vulnerability to abuse, to the practical and spiritual needs of both the aged and their family caregivers. 
"I think it's vitally important for our diocese to be on record as supporting our work with the elderly, because it's not just a specific group—all of us are growing older," Hilary Greene of St. Mary's Church in Barnstable said.
"We are the largest and fastest growing demographic and these concerns may very well be the concerns of entire parishes, let alone [of] the whole diocese," Nancy Belyea of St. John's Church in Saugus said.
"The older you get the more likely you find yourself in a position where your basic civil liberties start to disappear," Michael Pierce of Trinity Church in Canton said.  He urged the diocese to make the plight of the elderly a top priority.
"We have to do this," the Rev. Deborah Warner of the Church of the Messiah in Woods Hole said, noting that parishes like hers in Cape Cod retirement locales are particularly faced with the needs of aging communities.  "It's a part of our baptismal covenant—we respect the dignity of every human being—that is imperative for us to live into," she said.
Chief among the concerns raised by those who spoke against the resolution as originally proposed were the amount of work it would have required of congregations and deaneries; whether that work could be achieved and would be effective; and whether Convention should mandate that congregations develop this particular ministry over others of local relevance and their own choosing.
A successful amendment offered by the Rev. Jane Gould of St. Stephen's Church in Lynn removed the final three sections of the original resolution that would have required congregations to establish committees and send representatives to meet regionally for information sharing purposes, and deaneries to make convention reports next year.  As amended, the final resolution encourages congregations "to become aware of the issues facing the elderly community" and to develop ministry with the aged which may include a range of suggested activities.
"The needs of the elderly in our communities are often neglected and in our parishes they often become invisible as they lose their ability to gather with us for worship.  We need to be attentive," Gould said.  "The first resolved raises awareness and intentionality, and we perhaps next year could come back with a resolution that moves out of what we do in response to the first resolved this year and actually creates some actionable steps," she said.
Convention also approved a canonical change that transfers oversight of compensation and benefits matters pertaining to lay and ordained employees from the Commission on Ministry to the Diocesan Council.
Election results
The Rev. Edwin Johnson and the Rev. Holly Antolini, both of St. James's Church in Cambridge, the Rev. Robert Hensley of Grace Church in Vineyard Haven and the Rev. Kathleen McAdams of Ecclesia Ministries in Boston were elected alternate clerical deputies to General Convention.
Lallie Lloyd of Trinity Church in Boston, Rebecca Alden of St. David's Church in South Yarmouth, Elizabeth Graham of Grace Church in Medford and The Crossing at the Cathedral Church of St. Paul in Boston and Helen Gordon of St. Barnabas's Church in Falmouth were elected alternate lay deputies to General Convention.
Sharon Li of the Cathedral Church of St. Paul's Chinese congregation was elected lay member of Standing Committee.  The Rev. Victoria Pretti of the Church of Our Saviour in Milton was elected clerical deputy to Provincial Synod. 
--Tracy J. Sukraw
All convention actions, including uncontested elections and resolutions in final form, are available here.