For the Rev. Karen Coleman, the Ash Wednesday rush hour in Somerville's Teele Square started at 7 a.m.
Positioned outside St. James's Church, its red doors wide open behind her, Coleman, wearing a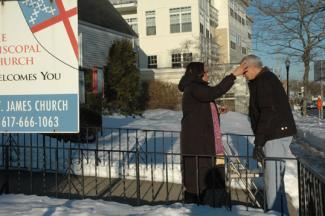 The Rev. Karen Coleman imposes ashes outside of St. James's Church, Somerville. purple stole over her black coat and holding a bowl of ashes, called out good morning to passersby.  It was cold and very bright out.  Everyone was bundled up and squinting.  With sidewalks narrowly cleared and still treacherous in spots after the previous weekend's snowstorm, all were hurrying down Broadway with their eyes focused on their feet, and they seemed startled by the priest's greeting.  Still, most returned it, and some stopped, after reading the "Ashes" sign taped to a folding chair beside her, to have their foreheads smudged and to hear her say something even more startling:  "Remember that you are dust, and to dust you shall return."
So goes the solemn ritual that marks the beginning of Lent, the nearly six-week season of penitence and preparation for Easter.  By bringing it outdoors, Coleman is among a growing number of church people, ordained and not, participating in a nationwide "Ashes to Go" effort to take the practice into public places.
This was the first time that Coleman had offered ashes outdoors.  She would be back inside with them that evening during the traditional Ash Wednesday service with her small congregation.  Doing both felt worthwhile, she said.  "I don't know that this will get anyone to start coming to our church.  I'm really out here to let people know we're here and we have something to offer," she said. 
Whether in church or outside, the ritual of imposing ashes, she said, is a rare "person-to-person connection."
"For me, it's about acknowledging our human frailty, that we're only here for a short period of time," she said. 
St. Paul's Church in Newton Highlands, Christ Church in Waltham, St. James's Church in Amesbury, St. James's Church in Groveland and Grace Church in Medford were among Episcopal churches offering ashes at transit stops and street corners in their communities. 
"In our crazy, busy, reflection-deprived lives, I feel called to imitate Jesus' ministry of meeting people where they are, to reach out and create a moment of grace amidst the demands of our busy lives," the Rev. Marya DeCarlen, Rector of St. James's Church in Groveland, said in the Eagle Tribune of her congregation's early morning offering of "Ashes to Go" at a commuter rail station and then later in front of the post office.
About 40 people availed themselves of the ashes offered by the team from Grace Church in Medford at a train station and bus stops between 7:30 and 9 a.m.  "Many people are longing to make a connection between their faith and the forces of modern daily life, and 'Ashes to Go' is an attempt to help them to find that connection," the Rev. Noah Evans, Rector, said in a news release publicizing the effort.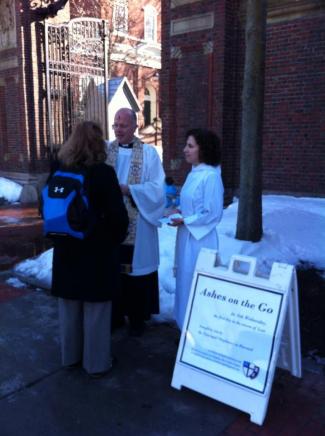 The Rev. Luther Zeigler and Emily Garcia offer ashes outside of Harvard Yard in Cambridge. Members of the Episcopal Chaplaincy at Harvard were also on the go with ashes.  They got asked to leave their post outside Harvard Business School after marking about 30 foreheads; undeterred, they moved on to various other campus locations to catch up with commuters, students and university staff and reported via Facebook that it was a blessing to be part of so many people's day.
There are others who acknowledge the street appeal of the "Ashes to Go" effort and the public witness it makes but are concerned that the ritual's deeper meaning gets lost or diminished when taken out of the context of the Ash Wednesday liturgy.
"At first I was averse to the thought of it," the Rev. Jeffrey Mello, Rector of St. Paul's Church in Brookline, said.  "I'm still not a fan of the phrase 'Ashes to Go.'  What I'm hoping for is actually 'Ashes to Stay.'  I don't think we should be doing it to be trendy, but to offer an invitation many don't know exists."
 
He, like Coleman in Somerville, sets up outside the church's open doors.  After imposing ashes, he asks people to come inside, if they wish, for prayer and reflection about what they've just experienced.  He also gives out Lenten booklets with an invitation to return.  "Part of our Ash Wednesday liturgy is the invitation to an observance of a holy Lent.  I see this as an invitation to just that," he said.
"I think it is an incredibly powerful symbol and rite to offer a people who are increasingly convinced they can control their lives if they are rich enough, smart enough, thin enough, etc.  Ultimately, no matter how rich or poor, smart or not, thin or not, we are all dust and to dust every single one of us will return.  What a glorious relief!" Mello said. 
In a way, ashes have always been on the go, as parish priests take them to members who are homebound or to those who otherwise can't or won't make it to a weekday church service.  They describe finding and sharing deep meaning in their out-of-church Ash Wednesday encounters.
In addition to three regular Ash Wednesday services at church, for example, the Rev. Richard Bardusch, Rector of St. Thomas's Church in Taunton, takes ashes to soup kitchen guests.  "No service, they just line up, get their ashes and then we feed them.  It is very powerful to give them a symbol of their mortality and then food for their bodies," he said.
The Rev. Jane Bearden, Rector of Trinity Church in Haverhill, planned to take ashes out onto White Street for awhile after the 7 a.m. service at church, and then later she would take them to the local hospital where she volunteers as a chaplain.  She also would hand out cards printed with a Gospel message.
In a hospital setting, where intimate moments are fleeting, to say that the imposition of ashes is less meaningful because it is separated from liturgy might be to focus too much on what she called "the 'churchy' part rather than the human part." 
She recalled a past experience of imposing ashes at Massachusetts General Hospital and "having a line, as far as I could see, waiting, all in white coats and carrying their lunch, hamburger in one hand and Coke in the other." 
"Honestly, I try to pastor with the whole person—including the logistical problems of working in a hospital and missing all of the services at church," Bearden said.  "So I impose, and they do the prayers as they go about their day."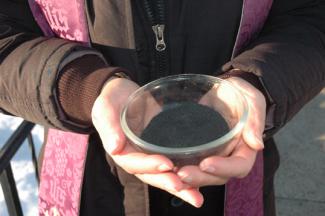 Whether in church or outside, the ritual of imposing ashes is a rare "person-to-person connection." The Rev. Robert Hensley, Rector of Grace Church in Vineyard Haven, who is joined by several retired priests in taking ashes to nursing homes, hospitals and the homebound around Martha's Vineyard, said he too finds hallway encounters as profound as anything that happens in church.
"I think that particularly in the nursing homes and hospital, to a certain extent, people are challenged and confronted on an almost daily basis with their mortality and the mortality of others," he said, and so in that context, "I try and take a different approach to those lines about our mortality that we say over individuals.  I don't think that it is a scary thing or something to be feared.  To return to dust is to return to our creator, to our basic essence, if you will, which is not an ending but a joyful homecoming, as difficult as that may be to comprehend at times."
Why people are drawn to a ritual that reminds them of their mortality is an interesting question, he said, especially those outside of a church community.  "There is a certain desire in seeking out a reminder of being part of something holy and sacred," he surmised.  "The idea of receiving ashes as part of our 'Christian duty' like it may be to some in the pew is far removed from their intention." 
As for the moment of imposition itself, Hensley said, "There is no one else but the recipient, the person imposing the ashes and God.  And for a brief moment in/out of time, I believe that the three are inextricably linked to each other.  One of those special moments when the veil between this world and the next is so thin that you can actually glimpse the eternal.  I believe that is one of the most profound privileges that I have as a priest."
Inside, outside, Ash Wednesday is the invitation:  Ashes to ashes.  Dust to dust.  In 40 days it will be Easter.
--Tracy J. Sukraw