When was the last time you thought about insulation? Light bulbs? Probably not recently. But it's often the mundane things that add up to major energy savings and reduced carbon footprint, and many churches in the diocese are making steady progress on short and long-term goals, starting with something as small as a lightbulb and up through solar panels and natural gas furnaces.  
Many of these projects are made possible by diocesan green grants. The diocesan program awarded the first round of green grants funded by the Together Now campaign in 2012 (following a previous phase of green grants made prior to the campaign, in 2010 and 2011). Today the program has awarded grants to more than 90 churches in the diocese, totaling, since 2012, $713,270.  As planned in the Together Now campaign, the last cycle for green grants will begin in early 2016, with grants to be awarded in the spring. Churches that wish to apply—whether they are green grant veterans or new to the process—should begin the process now. 
In honor of this milestone, several churches that have used green grants shared their stories and advice for the planning and execution of green building improvements. 
Melissa Giese is a member of the Creation Care Team at St. John's Church in Charlestown.  St. John's used a green grant to finance the planning and engineering phase of its new natural gas heating system. The new heating system was subsequently financed with a diocesan green loan.  
"Our congregation celebrates what we've been able to do with the help of the diocese," Giese said. "We're warm in church now—we were used to wearing coats and gloves in church!"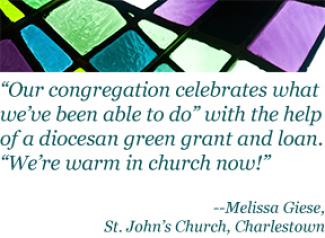 Making a building's heating more efficient is typically a two-step process: converting to a more efficient furnace (or furnaces), and buttoning up the building to conserve as much energy as possible.  Working out the finer details of the new heating system exposed other weak points in the building, Giese said.  
Using its energy audit as a starting point, the parish identified the aging windows as a high priority and is currently working with a contractor to restore and insulate the windows. "Replacing windows in an old building is usually not a great idea, because the old frames are far more durable than the wood they use in new construction," Giese said.  This project is also partially funded with a green grant. 
St. John's is also installing smart thermostats, which can be controlled remotely. "So, if there's a snowstorm and a meeting gets canceled, the heat can be turned down rather than have it running with no one there." Giese said. 
For most churches, improving energy efficiency is a marathon, not a sprint.  An energy audit helps identify the highest-priority changes, and most churches move down the list of changes gradually, when the financial resources are available. Often, this is where money from a green grant or loan can offer a kick-start. At St. James's Church in Groveland, "greening" the church buildings has been a multistep, years-long process. 
Jack Willett is a warden at St. James's and has helped to shepherd the church through two green grants. The first grant was for a new natural gas furnace to heat the church school building; the church recently completed a second for windows in the church school building. 
"When we first put the system in, we couldn't believe how much warmer it was," Willett said. "And then I got the first bill, and I said, something's wrong–it was only $37! The big bill didn't come until January, when we have our church fair, but that bill was only $140. I thought they weren't reading the meter right!" 
Now that the energy efficient furnace is in place, St. James's is using another green grant to improve its windows, by covering the stained glass with Plexiglass.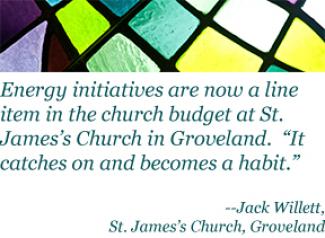 Willett said that green improvements have begun to snowball. Energy initiatives are now a line item in the church budget, and St. James's has added features like zone thermostats and splitters that converted the lighting in the church from 200 watt bulbs to 18 watts. 
To those embarking on the green grants process for the first time, Willett recommends using all of the resources available through the green grants process and through energy companies, starting with an energy audit. 
"[The power companies] have lots of things they can give you for free–lightbulbs, programmable thermostats," he said.  "I went to one [Massachusetts Interfaith Power and Light] workshop, and then another and another. All of this stuff just builds, it catches on and becomes a habit." 
Free energy audits are available through all major electricity companies including NStar and Eversource, as well as through Massachusetts Interfaith Power and Light.  
Willett also encouraged churches to make a habit of keeping close tabs on their energy spending, and saving copies of all bills. This information can be extremely helpful to have readily available when starting a green grant. He also urged churches to build a team dedicated to creation care and building improvements, so that the work of completing the grant and seeing through projects does not fall completely on one person. 
"We have a small group of five, and any one of us can do these grants now," he said. "I don't feel like this is all on my shoulders–I had five people backing me up on this. My advice is to form a little committee, including some vestry members." 
Bev Ridpath at the Church of the Good Shepherd in Acton also began by building a small group of committed volunteers. "This is how these things start," she said. "One day I was getting coffee with a friend, and we said 'could we not do something about climate change?'  We invited anyone at the church who was interested to come and join us, and in the end we developed the Sustainable Use Committee, with a goal of getting [the church's] carbon footprint to zero." 
Good Shepherd has used a combination of green grants and diocesan loans (formerly known as Stokes loans) to make large-scale improvements to its building. The first grant helped to pay for a new furnace, and a second paid for improvements to the church's plumbing and hot water system. A third green grant completed recently will go towards installing energy-efficient LED lighting in the church parking lot. 
Like Willett, Ridpath emphasized the importance of putting together a team. "Pull together a few people, because it's really too much for one person to do," she said. "A committed group of individuals have been tireless in finding ways to deal with our building, which is not that old, actually, but poorly designed."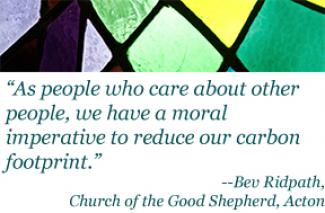 The Sustainable Use Committee at Good Shepherd has obtained energy audits through NStar and Massachusetts Interfaith Power and Light.  "Start [with an audit], because that will guide you to that low-hanging fruit," Ridpath advised. 
Good Shepherd hopes that its next major project will be solar panels. The Sustainable Use Committee is working steadily on smaller initiatives, including Advent education programs, publicizing energy audits for homeowners and reducing waste from paper goods and packaging used at church events. 
"There's the biblical imperative that we are stewards of our world, but what gets me going is when I read the literature and look at the statistics, we're already getting to a point where we have heated the world by nearly a degree," Ridpath said. "We have these record-breaking weather events happening, hurting people…we're on a trajectory right now to really change this planet radically from what it's been. As people who care about other people, we have a moral imperative to reduce our carbon footprint." 
Green grants are funded through Together Now, the diocesan campaign that completed its fundraising phase in 2013.  The final scheduled round of green grants in their current iteration will be awarded in the spring of 2016 and application documents will be posted here when they become available. There will be a two-pronged application process for 2016: applicants may apply by March 16, for an early decision on April 22 (Earth Day). Alternatively, applicants may submit letters of intent by March 16, with full applications due on April 22 and decisions made in early June.  Churches that wish to apply for a green grant must follow the guidelines set out by the green grants committee, including completing an energy audit and attending a Sustainable Houses of Worship (SHOW) workshop. The "How to Start a Green Team at Your Church" document on the Creation Care Initiative page is another helpful resource, particularly for churches that are just beginning to put together a sustainability committee. 
--Ellen Stuart Kittle
Photo:  iStock.com/buburuzaproductions