With the approaching culmination this fall of an election year that many have found to be especially vitriolic and divisive nationally, the bishops of the two Episcopal dioceses in the Commonwealth of Massachusetts are planning to come together as neighbors on Saturday, Oct. 22 to walk a route that stretches through both dioceses and to talk with and listen to young people about their concerns and hopes for the world we live in.

Bishop Douglas J. Fisher of the Diocese of Western Massachusetts and Bishop Alan M. Gates of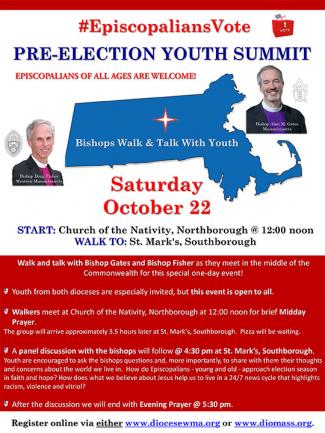 the Diocese of Massachusetts invite Episcopalians of all ages to join them for this special youth-focused joint event—an occasion to "meet in the middle" as neighbors and to share in some pre-election conversation about current events, Christian faith and how Episcopalians can respond in hope and action, inspired by the voices of the young people in their midst.

Walkers will gather with the bishops on Saturday, Oct. 22 at the Church of the Nativity (45 Howard Street) in Northborough, in the Diocese of Western Massachusetts.  After brief midday prayers at 12 p.m., they will step off for their approximately eight-mile walk. 
The group will arrive about 3.5 hours later at St. Mark's Church (27 Main Street) in Southborough, in the Diocese of Massachusetts.  Participants will share an informal meal of pizza at St. Mark's, followed by a discussion program with the bishops and young people at 4:30 p.m.  Young people will have the opportunity to share with the bishops their questions and ideas about issues of concern to them in this election season and beyond.  The day will conclude with Evening Prayer at 5:30 p.m. 
All are welcome to join for any portion of the day.
Arrangements are being made to transport walkers back to Northborough after the program in Southborough.
This is a rain-or-shine event.  There is no cost to participate, but advance online registration is requested to help organizers plan appropriately for the day.  Register online here.

#EpiscopaliansVote:  Getting ready
In March of 2016, the Episcopal Church's presiding bishop, the Most Rev. Michael B. Curry, called on Episcopalians to vote according to individual conscience in light of a Gospel-inspired question:  "Does this look like love of neighbor?"

With this in mind, colleagues from both Massachusetts dioceses have created a lesson plan to help participating young people prepare.  Youth groups are encouraged to use the guide for their own local conversations, regardless of participation in the Oct. 22 event.  The guide is available here.

Event summary:
What:  Pre-election walk-and-talk event with bishops of both Massachusetts Episcopal dioceses, featuring a walk from Northborough to Southborough and a youth-focused discussion program
When:  Saturday, Oct. 22, 12-6 p.m.
Where: Walk begins at noon at Church of the Nativity (45 Howard Street) in Northborough and concludes at St. Mark's Church (27 Main Street) in Southborough
• 12:00 p.m.:  Midday prayers and walk beginning at Church of the Nativity, Northborough
• 3:30 p.m. (approximate):  Walkers' arrival and pizza at St. Mark's Church, Southborough
• 4:30 p.m.:  Discussion program with bishops and young people
• 5:30 p.m.:  Evening Prayer

About the Episcopal Church in Massachusetts
The Diocese of Western Massachusetts was established in 1901 when the Episcopal Church's growth led to the creation of two dioceses out of what had been, since 1784, a single, statewide diocese.  The Diocese of Western Massachusetts stretches from the Berkshires to Worcester County and today comprises 55 congregations.  Bishop Fisher was consecrated its ninth bishop in 2012.  The Diocese of Massachusetts covers the eastern third of the state, including Cape Cod and the islands, and comprises 180 congregations.  Bishop Gates was consecrated its 16th bishop in 2014.  He is assisted by Bishop Suffragan Gayle E. Harris.