Bishop Bud Cederholm led a delegation to Biloxi, Miss., and New Orleans Dec. 10-13, to visit mission partners there and bring to an official close the diocese's post-Hurricane Katrina work.  
Update 12/12/10:  The Gulf Coast team spent the day in church with friends at the Church of the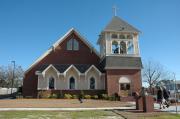 Redeemer in Biloxi, joined by the bishop of Mississippi, Duncan Gray, for the dedication of the new church building.  See photos here.
Update 12/11/10:  The Gulf Coast team saw and heard a lot in New Orleans today that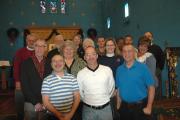 contrasted much that has happened to rebuild in some places with much that has not happened to address inequities in others. St. Anna's friends were deeply grateful for the $15,000 gift from Massachusetts, and the Massachusetts team was deeply fed by conversation and hospitality.  Photos from the visit are here. 
Update 12/10/10:  The Gulf Coast team was warmly welcomed to Biloxi by the Rev. Jane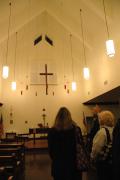 Bearden, had a night tour of the new Church of the Redeemer and was awestruck by the beauty of the new building.  Photos are posted here. 
Update 12/09/10:  Bishop Bud Cederholm leads a delegation to Biloxi, Miss., and New Orleans this weekend, to visit mission partners there and bring to an official close the diocese's post-Hurricane Katrina work.  Cederholm says to the diocese:  "As our diocese's delegation travels this weekend to visit our mission partners on the Gulf Coast, we are carrying your love and your generosity with us.  Those we meet will be giving thanks for you.  Please lift St. Anna's Parish in New Orleans and the Church of the Redeemer in Biloxi in your prayers."  Updates will be posted here as the group travels.  See photos here.
11/17/10:  When Hurricane Katrina brought devastation to the Gulf Coast just over five years ago, it also brought people together in some unexpected ways.
Hundreds of volunteers from congregations around this diocese made their way down to Louisiana and Mississippi, joining forces with others from across the country to bring relief, clean up and rebuild.  Hundreds of thousands of dollars from Massachusetts were collected and deployed in the effort.  Friendships formed.  Partnerships grew and bore fruit.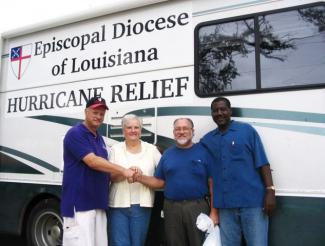 PHOTO: Maria Plati During a mission trip to New Orleans following Hurricane Katrina, Bud and Ruth Ann Cederholm brought donations and encouragement to St. Anna's as it inaugurated its mobile medical clinic. "You might say that the deep and long-lasting relationships that have formed are unlikely ones, since, before Hurricane Katrina, our diocese and those on the Gulf Coast knew little of each other," Bishop Bud Cederholm, an unflagging leader and inspiration behind the diocese's Gulf Coast fundraising and volunteer relief efforts, says, adding, "What they have shown us is Christ, in the faces and lives of those we have served." 

Now, as the work of the diocese's Gulf Coast Partnerships Task Force comes to its official close, Cederholm sums it all up as "an extraordinary expression of God's love through God's servants from Massachusetts in this first decade of the new millennium.  I am so proud of this diocese!" 

Cederholm will lead a small diocesan delegation to New Orleans and Biloxi, Dec. 10-13, to spend time with mission partners there and to distribute the task force's remaining funds in two meaningful ways.

The team will first visit St. Anna's Church in the Ninth Ward of New Orleans, a small, diverse Anglo-Catholic parish whose shoestring ministries respond to the poverty and violence right outside its doors.  The parish operates a mobile medical clinic out of an RV, and a contribution from Massachusetts will help keep it going.

Then, in Biloxi, the team will join with the Church of the Redeemer for the dedication of its new church building, including a rose window donated by the Diocese of Massachusetts.  In the early days after the hurricane, Massachusetts partnered with the Church of the Redeemer, whose building had been completely destroyed, and later sent the Rev. Jane Bearden to serve there for two years as a priest-in-residence while the congregation got back on its feet and rebuilding got underway.

Bearden, who is among those making the trip in December, says that for her, it's all about the relationships.  "The commitment this diocese made to the people of the Gulf Coast and especially to Redeemer and to St. Anna's Medical Mission not only changed lives there for the better—our effort changed us, too.  I never met a volunteer who left saying that they regretted having come," Bearden said.

She adds, "My rabbi friend in New Orleans says that when God seems absent, look for God in the invitation.  In the midst of all of that disaster, God dwelt in the invitation to stand as one church, united in love and compassion.  We answered the call.  Now is the time for celebration.  New medical van, new worship space, new friendships…laissez les bon temps rouler!"

Anyone who would like to join the December trip is welcome, Cederholm says, as are contributions to supplement the gifts to St. Anna's and the Church of the Redeemer.  "I invite prayers of thanksgiving for all that has been accomplished with our friends on the Gulf Coast, and I hope mission trips and contributions will continue to be made in the future by congregations and groups in the diocese, as the need does still continue," Cederholm said.

--Tracy J. Sukraw

Additional contributions or inquiries about joining the trip can be directed to Diane Pound in Bishop Cederholm's office at dianep@diomass.org or 617-482-4826, ext. 349.