Oct. 30, 2012:  The day after hurricane-strength Sandy roared through the region, leaving nearly 300,000 without power statewide, eastern Massachusetts Episcopal churches seem to have come through the storm largely unscathed.
By noon on Oct. 30, about 60 parish clergy from a wide range of locations had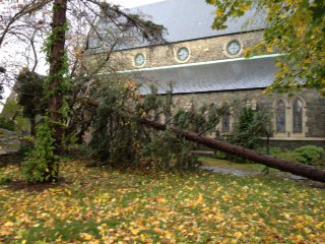 Sandy felled a 40-foot fir at St. Thomas's Church in Taunton. checked in by e-mail with consistent reports of power outages but no known injuries and no serious property damage beyond downed trees and limbs, some lost roofing and broken windows.
Most conveyed ongoing concern and prayers for those who suffered much worse elsewhere.
St. Andrew's Church on Martha's Vineyard was undamaged and open for Morning Prayer at 8 a.m. "and our hearts were filled with gratitude," the Rev. Chip Seadale, Rector, reported, adding, "We would also like to share our prayers for those hurting and struggling as the result of the mighty acts of nature." 
Other Cape and islands churches and ones on the hard-hit South Shore reported no damage.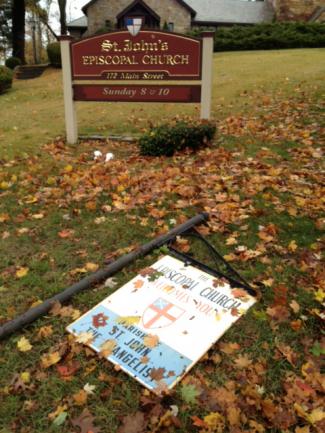 A couple of trees and this welcome sign were the only casualties at St. John the Evangelist in Hingham. From the North Shore, the Rev. Jane Gould, Rector of St. Stephen's Church in Lynn, reported "lots of rain inside the church (leaks we didn't even know we had) but no trees crashing or power outages."
A 40-foot fir tree did go down in front of the rectory of St. Thomas's Church in Taunton.
And scaffolding in place for bell-tower repair at Grace Church in Medford came down through a roof and broke a stained glass window.
Diocesan and cathedral offices reopened for business on Oct. 30 after closing the day of the storm in heed of Governor Deval Patrick's request that workers stay home and off the roads.