The Society of St. John the Evangelist has announced that the Rt. Rev. M. Thomas Shaw, SSJE, monk and, for 20 years, the bishop of the Episcopal Diocese of Massachusetts, died on Friday, Oct. 17 in the care of his SSJE brothers at Emery House in West Newbury, Mass.  He was 69.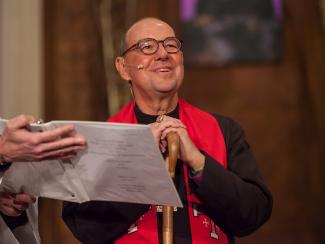 Matthew Cavanaugh
"During his last days, our brother Tom spoke of how very, very thankful he was for the life God had given him:  for the many wonderful people he had met, for the opportunities and challenges he had faced and for the amazing grace he had experienced throughout his life," the Rev. Geoffrey Tristram, SSJE, Superior of the Society of St. John the Evangelist, said in the announcement.
Shaw "was a man of deep prayer, a charismatic figure who connected easily with young and old alike and a leader whose creativity and entrepreneurial spirit led him to invent what was needed and new.  He was known for his sometimes-mischievous sense of humor, his tenacious courage and his passion to serve Jesus, both among the privileged and the poor," the SSJE announcement said.
Visitation hours will be held on Friday, Oct. 31, 4-9 p.m., including the Office of the Dead at 6 p.m., and Compline at 8:30 p.m., at the Monastery Chapel of the Society of St. John the Evangelist (980 Memorial Drive) in Cambridge.
A Celebration of the Life of the Rt. Rev. M. Thomas Shaw, SSJE, with Holy Eucharist, will be held on All Saints' Day, Saturday, Nov. 1 at 2 p.m. at Trinity Church, Copley Square, Boston, with reception to follow.  Bishops, priests and deacons will not vest or process, and are invited to sit in the congregation.
 
In lieu of flowers, memorial gifts may be directed to the Society of St. John the Evangelist, 980 Memorial Drive, Cambridge MA 02138 (www.ssje.org/donate) or the Episcopal Diocese of Massachusetts, 138 Tremont Street, Boston MA 02111 (www.diomass.org/campaign-and-giving).
[Please scroll to the bottom of this page to post a comment.]
# # #
A message from Bishop Alan M. Gates is posted here.
A message from Bishop Suheil Dawani of Jeruslaem is posted here.
A reflection by Bishop Thomas Ely of Vermont is posted here.
A statement from the bishops of the Episcopal Diocese of Connecticut is posted here.
View a photo gallery here.

# # #
Marvil Thomas Shaw III was born in Battle Creek, Mich., on Aug. 28, 1945, the son of Marvil Thomas Shaw Jr. and Wilma Sylvia (Janes) Shaw.  He grew up in the family's parish, St. Mark's Church in Coldwater, Mich., and graduated from Alma College.  He earned a Master of Divinity degree from General Theological Seminary and a Master of Arts degree in theology from the Catholic University of America.  Ordained to the priesthood in 1971, he served as curate at the Church of St. Mary the Virgin in Higham Ferrers, Northamptonshire, England, from 1970 to 1971, and as assistant rector of St. James's Church in Milwaukee, from 1972 to 1974.
In 1975 Shaw entered the Society of St. John the Evangelist (SSJE), the oldest religious order for men in the Episcopal/Anglican church.  Life professed in the order in 1981, he was elected its superior the following year and served a 10-year term.  During that time, according to the SSJE, he was instrumental in developing the society's rural Emery House property as a retreat center, establishing the Cowley publishing imprint for books on prayer and spirituality and renewing the society's longtime commitment to at-risk children in Boston through Camp St. Augustine in Foxborough, Mass.  He also initiated the brothers' rewriting of their The Rule of Life of the Society of Saint John the Evangelist, an eight-year process that resulted in a unique contemporary monastic rule.
He was in demand nationwide as a preacher, retreat leader and spiritual director, and served, beginning in 1993, as chaplain to the House of Bishops of the Episcopal Church.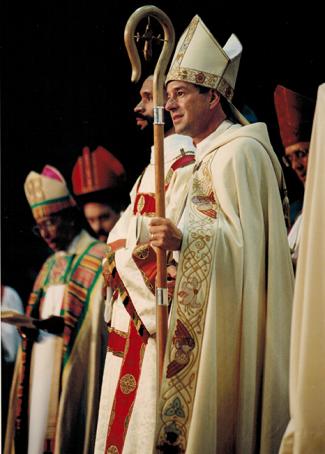 David Zadig Bishop Shaw, newly vested, at his consecration on Sept. 24, 1994. Shaw was elected bishop coadjutor of the Diocese of Massachusetts on the first ballot at a special Diocesan Convention on March 12, 1994, at the Cathedral Church of St. Paul in Boston.  He was ordained and consecrated a bishop on Sept. 24, 1994, and succeeded the late Rt. Rev. David E. Johnson on Jan. 15, 1995, to become the 15th bishop of the Diocese of Massachusetts.
At a retirement celebration for Shaw in June, the Rt. Rev. Frank T. Griswold III, former presiding bishop of the Episcopal Church, acknowledged the difficult circumstances of Shaw's abrupt entry into office following the suicide of his predecessor, and how the subsequent years were about both diocese and bishop shaping one another "according to St. Paul's notion of the church as Christ's risen body constituted by the relationship of its diverse limbs one to another."
Calling his friend and colleague "a catalyst and at times a provocateur," Griswold highlighted Shaw's success at fundraising, his initiatives focused on young people and his work to build global relationships.
"During these last 20 years he has exercised a ministry of accompaniment in various parts of our Anglican Communion that has both respected and transcended difference," Griswold said.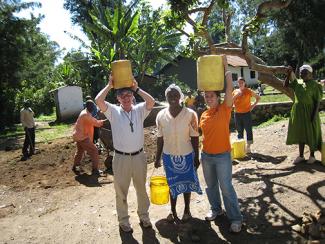 Bishop Shaw on a 2007 mission trip to Kenya with college students. Shaw traveled frequently and led groups to Israel and Palestine, Africa and Central America, developing and strengthening mission relationships with Anglican partners to further the church's work of reconciliation and service in the world, with particular focus on peacemaking and alleviating poverty and disease.   He chaired the Episcopal Church's Standing Commission on National and International Affairs and the Advisory Council for the Anglican Observer to the United Nations.   In 1998 he contributed to the work of the once-a-decade Lambeth Conference of Anglican bishops on international debt and economic issues.    
When Shaw returned for his second Lambeth Conference 10 years later, there was rift in the Anglican Communion over issues of sexuality surfaced by the 2003 consecration of the openly gay bishop of New Hampshire, the Rt. Rev. V. Gene Robinson.
Shaw, himself a gay man, often spoke of conversation as the hard work that is necessary to conversion—a theme of his 2008 book, Conversations with Scripture and with Each Other—and he attended Lambeth with a commitment to  sharing the experience of the Diocese of Massachusetts, where the ordination process was open to all qualified candidates and same-sex marriage had been legal statewide since 2004.  "You know, we didn't come to where we are around ordaining gay and lesbian people or blessing same-sex unions lightly.  It is the context out of which Christ has called us to minister, and we're trying to do that as faithfully as we can to tradition, to Scripture and to the experience that we have," Shaw said in an interview upon his return from Lambeth.   Remaining faithful to God's mission in the world—particularly where that meant advocating and implementing poverty-alleviating measures—was the communion's way forward, he said. 
Shaw saw no dichotomy between the daily hours he spent in solitary prayer and the public demonstrations he joined on city streets and State House steps; he believed that prayer leads to action, and sought to make the Episcopal Church a visible and vocal presence in the public arena. 
"We are what God has to do good in the world.  Every one of us has a voice and can make a difference if we exercise that," he said in a 2004 interview.  "I don't think that on most civil rights issues, for instance, we can point to one huge event that's changed everything.  I think instead it's thousands of ordinary people doing what they think is right, taking risks, speaking out in their lives in big ways and small ways.  Eventually that turns the tide.  God really depends on us for that."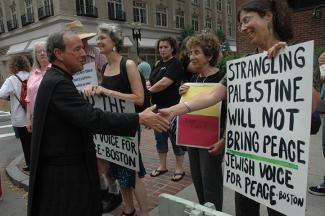 Maria Plati Bishop Shaw at a peace rally outside Boston's Israeli consulate--his second--in July 2006. He spoke out over the years against the death penalty and for immigration policy and gun law reform, marriage equality and transgender civil rights, among numerous other social justice issues.  Annually he led groups of Episcopalians across Boston Common to the Massachusetts State House to be lobbyists for a day.  In the spring of 2000, he spent a month in Washington, D.C., as a congressional intern, exploring the church's role in public life.  In 2001 he caused an uproar when he and his assisting bishops joined a peace witness outside Boston's Israeli consulate to bring attention to the situation of Palestinians. 
"Monk in the Midst," Shaw's 2013 blog of videos and personal reflections, "encapsulates the dual blessing he brought to his episcopate," according to his successor, the Rt. Rev. Alan M. Gates.  "Because he was a monk, he brought the heritage of a Christian spirituality which invited us to deeper prayer, deeper reflection, a more disciplined approach to 'going deep.'   But he was also 'in the midst'—fully present to the realities of societal change and communal need far beyond the walls of his monastic dwelling, realities which demanded the church's engagement and response," Gates said.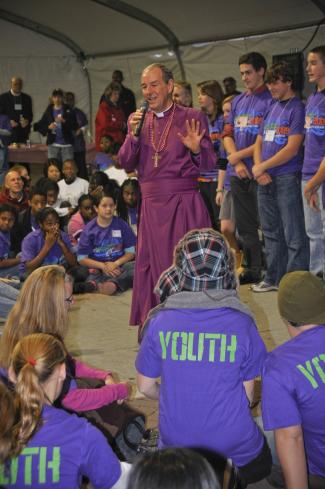 Peter Paradise Bishop Shaw at a youth rally in 2009. Within the diocese, Shaw was especially committed to ministry with young people, advocating full inclusion of children, youth and young adults in the life of the church.  He was unstinting in his support for start-up projects to serve them, including the establishment of tuition-free schools for economically disadvantaged children in Boston and Lawrence; summer programs for city children hosted in Episcopal churches located in violence-plagued neighborhoods; the creation of a youth leadership training program for high school-aged Episcopalians; and the financing and construction of the Barbara C. Harris Camp and Conference Center in Greenfield, N.H. 
He would clear his calendar to chaplain children's summer camp sessions, travel with teens and college students on mission trips and venture into downtown bars to speak to young adult gatherings, often returning with enthusiasm for replicating something transformative he had learned or experienced.
Recognizing that young adults are more inclined to seek out faith connections through engagement with their peers and public service, for example, he fostered vocational discernment and intern programs in the diocese that, in their current iteration, deploy young adults trained in community organizing to serve in churches and nonprofits while devoting themselves to spiritual practices and living together in intentional Christian community.
Shaw proved over his tenure to be a bishop who was not only unafraid to talk about money but who also didn't mind asking people for it when he believed it would do Gospel good in the world. 
"Money will not bring in the kingdom of heaven, but how we give of ourselves has everything to do with how willing we are to enter fully into the giving nature of God in whose image and likeness we are created," he said in an address to the 1995 Diocesan Convention.
On the heels of the recent recession, he persistently  launched a $20-million fundraising campaign, completed a year-and-a-half later, for an array of initiatives focused on building up congregational life and mission in the diocese through collaboration and by expanding the reach of successful diocesan programs that had begun as experiments.   Campaign funds are now making possible "green" grants and loans to help churches make energy-efficiency improvements to their buildings and reduce their carbon footprint; regional "mission hubs" through which Episcopal churches are collaborating on community service projects to meet local needs; a Mission Institute to provide ministry and leadership training; and renovations to the diocese's Cathedral Church of St. Paul to make it more accessible and energy efficient and better configured to host and model innovative worship, ministry and public witness.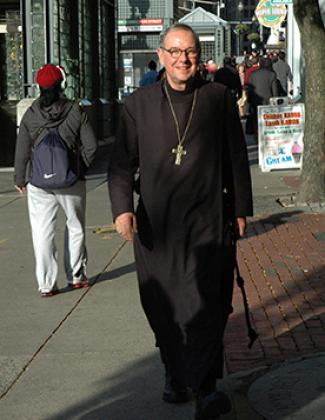 Tracy J. Sukraw Bishop Shaw on the move, on Tremont Street in downtown Boston, October 2012. "I don't think this is a time that is appropriate for raising endowment to preserve the institution," Shaw said of the campaign's success, in a 2013 interview .  "God is calling the church into change, and to have funding for experimentation and to further mission in ways that we know are capturing people's attention is critical.  From that we'll discover what has lasting value," he said.
Shaw  announced in January 2013 his intention to retire; later that year, in May, he was diagnosed with brain cancer.  He resigned his office on Sept. 13, 2014, at the  consecration of Gates as his successor.
"To follow in the footsteps of Bishop Tom Shaw is a very great gift, and a very positive challenge.  Christ's ministry through the church in this diocese is strong and vital, the legacy of leadership left by Bishop Tom is inspiring," Gates said.
Throughout his years as bishop, Shaw  continued  to live at the SSJE monastery in Cambridge, Mass., retreating regularly to his cottage studio at Emery House where he enjoyed crafting pottery.   He is survived by his SSJE brothers and his family, including his sister, Penny (Lee Deters) Shaw, of Louisville, Ky., brothers Sam (Nancy) Shaw of Boulder, Colo., and Stephen (Linda) Shaw of Sherwood, Ore., and his nieces, nephews and godchildren.
--Tracy J. Sukraw