By Sharon Sheridan
At her home parish of Christ Church in Medway, teenager Bella had never said more than "yes, please" and "thank you" to Deacon Maggie Geller.
"Her mother describes her as having a real problem with spontaneous language, either expressive or written," said Geller, an ICU nurse at Children's Hospital in Boston.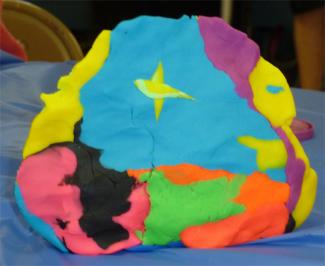 At the diocese's first Rhythms of Grace liturgy for children on the autism spectrum, however, Bella opened up at one of the activity stations, where she created a colorful Play-Doh sculpture with a yellow shape in the center resembling a cross or a dove. "We actually had a conversation about whether it was a cross or a dove," Geller recounted.
Then Geller asked if she would like to write her own Ten Commandments at the next table. "Oh, I would love that!" Bella responded, and soon produced 12 commandments. Later, she helped Geller pour wine into the chalice for Communion. "Talk about a holy moment," Geller said.
After the service, Bella's mother reported:  "Bella said that this was awesome, this was the very best because they talk about what's important and they don't do anything that's not important, and it's fun and I could understand it."
"That," Geller said, "was pretty awesome."
The Diocese of Massachusetts hopes to create more of those holy moments for children with autism and their families. In May, a pilot monthly Rhythms of Grace service began at Epiphany Parish in Walpole, and is being offered there the first Sunday of each month at 2 p.m. The goal is to develop at least four service sites in the diocese over the next two to three years, said Bishop Suffragan Bud Cederholm.
"I've had a heart and passion for kids with disabilities for some time," he said. "As a Christian educator, I've also felt that we have not been able to help educate and have worship experiences for kids with autism in the church in the present way we do things."
"We call ourselves an inclusive and inviting church, inclusive of all people, and yet unfortunately this is a population that hasn't felt the welcome because the church doesn't know how" to meet its needs, he said.
Rhythms of Grace is designed to help make worship more comfortable and accessible for children who may behave differently and experience sensory overload during a regular church service.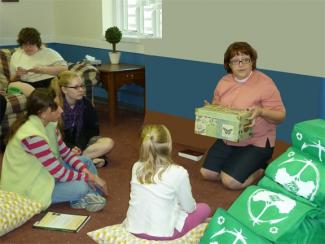 Maggie Geller Telling the Bible story: (from left) Kip, Tess, Bella and Valerie with the Rev. Rebecca Black "Churches universally are a very, very difficult place for autistic [children]," said the Rev. Rebecca Black, diocesan consultant for the pilot and the mother of a son with Asperger's syndrome, an autism-spectrum disorder. "The sounds of an organ and the echoing of churches can be overwhelming."
"The pressure of social interaction…just the fact that people are all around" also stresses these children, she said. "Stress tends to bring on meltdowns."
While her son attended church, she knew many other people with autistic children who didn't, she said. "It was just too hard."
The Rev. Audrey Scanlan, a Connecticut Episcopal priest, and Linda Snyder, missioner for children and adults in the Episcopal Diocese of Connecticut, developed Rhythms of Grace about eight years ago to provide an alternative for such families. Last summer, Morehouse Education Resources published the first volume of their three-year curriculum.
Scanlan, who has a background in special education, told the Episcopal News Service last fall that she was a newly ordained curate at Trinity Church in Torrington, Conn., when a parishioner with an autistic son e-mailed the rector saying: "I can't come to church anymore because my son is too disruptive in our Sunday school class and in church, and he's too old to hang around in the nursery."
"I said, 'Let's see what we can do for them,'" recalled Scanlan, now rector at the Church of Our Saviour, Plainville, Conn. "To this day, the format is really the same. It combines biblical storytelling with what we call therapeutic crafts and then a time of Communion, which is extremely informal."
 
The program draws everyone from toddlers to teens, has been replicated in several states and was scheduled to be launched in the United Kingdom.
In Walpole, worship begins with a low-key "gathering activity" related to the day's theme, such as collecting large soft blocks to build the walls of Jericho or creating a Jello "earth bowl" by crushing graham crackers and layering different Jellos on top. Children are welcome to participate or sit and watch.
Next follows an interactive presentation of the day's lessons. During a service focusing on creation, for example, children helped assemble a three-dimensional globe puzzle.
"Kids on the spectrum…have a much easier time learning through visual presentation than through auditory," Black noted.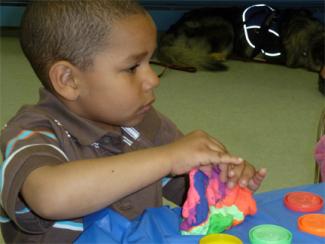 Maggie Geller William enjoys making a Play Doh creation during the sensory activity time. Next come several therapeutic activities. "They're designed to work on skills that many autistic children need, and they're all designed around the theme to reinforce the theme," Black said. During the first two Epiphany services, activities included planting seeds, finding and matching seashells and rocks hidden in a basin of rice and molding items out of Play-Doh and Model Magic.
"It's very low-key. If a child wants to stay at one activity the whole time, that's fine," she said. "We take our cues from the parents."
Next, the congregation sings a song, gathers at the altar and shares Communion. A "transition time" follows. "Sometimes they want to go back to an activity," Black said. "A lot of times, the parents are wanting to network, so I always have a sort of back-up activity if parents want to hang around."
While parents attend, volunteers pair one on one with the children. It's important to give parents and siblings a place to interact, Black said. "I have a younger daughter who's neuro-typical and gets very frustrated with her older brother. … I think the experience of meeting other siblings who have brothers and sisters on the spectrum has been wonderful for her. It's really given her a community where she feels normal again, not like everybody's staring at her or her brother."
The service is open to all, whether or not they are Episcopalians, and also is not meant to be restrictive, said Epiphany's rector, the Rev. Alan Hesse.
"It's a separate service once a month, but the hope is that people will feel, if they so choose, that…they're also welcome at a regular church service on a Sunday morning," he said. "It's not like, 'This is your service, and it's the only place where you can be.'"
"For me as rector, it's an opportunity for us to re-examine how welcoming are we, really–not just in terms of race or folks' economic status, those regular things everyone thinks about," he said. "It has been an opportunity to say, 'Are we meeting the needs of our parish? Are we meeting the needs of our community? What are the stumbling blocks to people to come to this parish?'"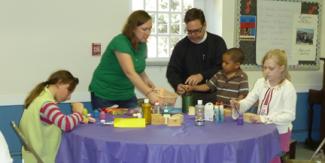 The Rev. Maggie Geller Enjoying a small motor skills activity: (from left) Bella, Rachel, the Rev. Alan Hesse, William and Valerie. The focus on children with autism led to a new awareness of allergies and food sensitivities–one child, for example, is severely allergic to peanuts, he said. "It's exciting, because it starts to ask that basic question: Who are we excluding unintentionally and how can we rectify that situation? How can we welcome people, how do we make this a safe place, how do we make this a safe place for worship with families who are on the spectrum…for families who have allergy [issues]. A number of moms have to travel with EpiPens."
With the introduction of Rhythms of Grace, Cederholm said, "The church has finally turned a corner." The program is a "great witness that all are truly welcome."
Beyond offering the specialized services, Black envisions raising awareness and expertise so that all churches are hospitable for children with autism. "My ultimate dream is that someday we'll have trained volunteers in every parish, so that any family who walks in the door will find a helping assistant so that their child is welcome and is able to do everything that every other child can do."
Sharon Sheridan is a freelance writer and editor in Flanders, N.J., and an Episcopal News Service correspondent.
Rhythms of Grace services are held on the first Sunday of each month, 2 p.m., at Epiphany Parish (62 Front Street) in Walpole.  For more information about Rhythms of Grace in the diocese, contact the Rev. Rebecca Black at aspecialgrace@gmail.com or visit www.aspecialgrace.com.