Students from the diocese's campus ministries rang in the new year in Jerusalem, one of the stops on a Holy Land pilgrimage that took them to holy sites and taught them something about peacemaking.
"One of the gifts of coming to a disputed land is meeting people who want to resolve conflicts not with violence but with civility, creativity and a concern for the common humanity of everyone involved," Shan Overton, a Boston College Ph.D. student in theology and education, reflected in a blog post during the trip.
Bishop M. Thomas Shaw, SSJE joined the group for part of their travels.  Their travel blog features their photos and reflections. 
Shan Overton's first-person recap follows: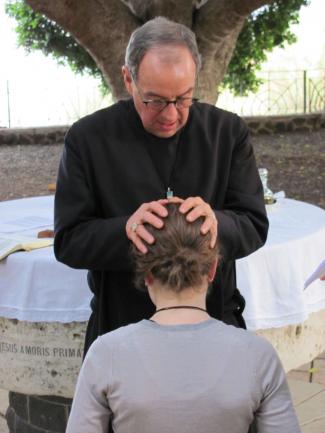 Judith Stuart Bishop Shaw confirms Hannah, one of the student travelers, near the Sea of Galilee
"He makes sure that orphans and widows are treated fairly; he loves the foreigners who live with our people, and gives them food and clothes. So then, show love for those foreigners, because you were once foreigners in Egypt. ~ Deuteronomy 10:18-20
"On Dec. 30, 2010, 21 pilgrims from the Diocese of Massachusetts left the New England cold and snow to make our way into the warm heart of the Holy Land.  A group of college undergraduates, graduate students, staff and clergy, we touched down in Tel Aviv on Dec. 31 and celebrated the new year's arrival at the guesthouse of St. George's Cathedral in Jerusalem, where we stayed for six nights before moving on to St. Margaret's Guesthouse in Nazareth, where we spent two more nights.  On the second day of our visit, we were joined by Bishop Shaw, making our number 22.
"Our journey was marked by visits to holy sites, such as the Church of the Nativity, the Mount of the Beatitudes, the Basilica of the Annunciation, the Wailing Wall and the Dome of the Rock, which connected us to our own ancient religious heritage and to the depth and beauty of Muslim and Jewish faith.  We were also profoundly moved by our engagement with Palestinians and Israelis, who offered us hospitality and shared their wisdom with us through telling us their painful stories.  Every day in this gorgeous and provocative land, we were confronted by the tension and violence of everyday life in Israel/Palestine, where peace sometimes seems an unattainable dream.  At the same time, in our visits to places like the Aida Refugee Camp in the West Bank and the Tent of Nations at Daher's Vineyard outside of Bethlehem, we saw evidence of hope and creativity everywhere in the faces of the people we met, in the artwork and films they have made, in their sharing of food and themselves with we who were foreigners in their land.
"To say that we were transformed by this short pilgrimage, which lasted through Jan. 8, is an understatement.  Our journey was marked by solemn and festive liturgies, which helped us to frame the changes taking place in us.  One of these services was the Confirmation of one of our group at an altar next to the Primacy of Peter on the Sea of Galilee, during which we reaffirmed our own baptismal vows. This renewal included confirming our dedication to striving "for justice and peace among all people" and respecting "the dignity of every human being."  As a flock of birds flew swiftly in formation over the Sea of Galilee, and a bright stream of light flooded the altar of our eucharistic celebration and service of Confirmation, we were awestruck by the realization that we have been called together and empowered by our Christian faith and communities, to work for justice and peace for all people.  
"Despite the pain and conflict we witnessed, being in Israel/Palestine reminded us in a new way that we—Christians and Muslims and Jews, men and women, Israelis and Palestinians and Americans, citizens and foreigners—are all made in the image of God and are thus worthy of being treated well.  We are all grateful for having the opportunity to make this pilgrimage together.  And we look forward to sharing our stories as a witness to what we have seen, as we continue to answer our call to work for justice and lasting peace for all of God's people."