More and more churches in the diocese are discovering that solar energy can be a cost-effective part of their stewardship of parish resources and of the environment.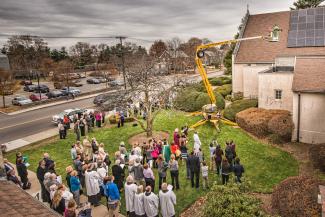 Tom Gaitley Bishop Bud Cederholm blesses solar panels at Christ Church, Needham.
With the rise of new leasing and payment models, solar energy is more accessible than ever before, and many Massachusetts churches are an active part of the trend. These include nine churches in the Episcopal Diocese of Massachusetts: St. Dunstan's Dover, St. Bartholomew's Cambridge, St. John's Westwood, St. Paul's Hopkinton, St. Paul's Brookline, Grace Church, Medford, St. Andrew's Framingham, Christ Church Needham, and St. Barnabas Falmouth. 
"Solar for faith communities is absolutely on fire," said Jim Nail, president of Massachusetts Interfaith Power and Light and a member of St. Dunstan's Dover. MIPL is an interfaith group of lay and clergy who seek to educate congregations on how they can be good stewards of the environment, starting with more energy-efficient houses of worship. 
Now, MIPL is connecting a network of about 25 houses of worship that are fully or partially powered by solar energy.  According to Nail, simply having these solar arrays out in the community is excellent advertising.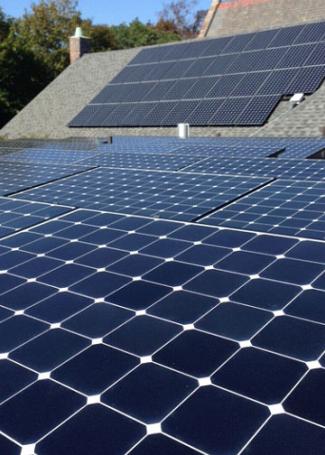 Noah Evans Panels at Grace Church, Medford. "When we first did [solar] we had to go out and really educate people about it, but now people are saying 'I've seen churches that have it, how do I do that?'" he said.  "Now we have a good couple of dozen examples of churches, of all types, in all parts of the state, showing people that this technology is reliable and economical." 
The cost of installing solar panels has decreased significantly in recent years, through leasing contracts and a new model called a power purchase agreement.  Nail said that this is good news for budget-conscious churches. 
"Solar has turned a corner, from a desirable but expensive technology to one that is getting very, very close to being the same cost as your utilities," he said. "In the last couple of years  we've seen the price come down dramatically, both in macro industry trends and specifically here in Massachusetts, where the state has done some very clever things to promote competition [in solar]." 
There are three basic models for solar panel usage. The first is to purchase them, either by raising the funds or borrowing from the church endowment. Nail said that this can be a good option as long as the parish is disciplined about paying back the endowment, and he estimated that the endowment could be paid back in less than 10 years if a church takes advantage of some of the incentives offered by the state.  The second option is to lease the panels. This takes the form of a 10 or 15 year leasing contract with a monthly payment for the panels.  Finally, there are power purchasing agreements, which are becoming increasingly popular among Massachusetts houses of worship.  In this case, the monthly payment is not fixed but based on how much electricity the panels produced in that month. The client pays a monthly bill and no upfront cost. 
Solar panels are not for everyone. To be a good candidate for solar panels, a building needs a south-facing roof, with a majority of the surface area exposed to sunlight and not shaded by trees or other buildings.  Nail emphasized that even buildings that won't be a good fit for solar panels can take steps towards better energy efficiency; from small changes like swapping out traditional light bulbs for compact florescent light bulbs (CFLs) to major renovations like new windows or a natural gas furnace.  To get started, Nail suggests starting with an energy audit. Audits are available through MIPL and the power companies, including NStar and National Grid. 
Churches using solar panels in the Diocese of Massachusetts have stories as diverse as the diocese itself. They are small and large, urban and suburban, experienced with solar or just learning the ropes. What they have in common, though, is a desire to share what they've learned with others. 
St. Paul's Brookline 
St. Paul's in Brookline was an early adopter of solar panels. After the sanctuary of St. Paul's was gutted by a fire in 1976, the subsequent reconstruction in 1982 included the installation of passive solar panels. In 2011, the church added a more technologically advanced photovoltaic array. 
"We're honoring a long tradition at St. Paul's. We were a leader in solar panels back in 1982, and I don't see [the photovoltaic panels] so much as breaking new ground as much as just the next step," said the Rev. Jeff Mello, rector of St. Paul's.
Solar technology has come a long way since St. Paul's installed their first panels. 
 "These early solar panels essentially used sunlight to warm air in the cells," said Mello. "And the warm air could be stored and used to heat the church."
Because of St. Paul's long history with solar panels, the parish cooperated smoothly with the Brookline Historical Commission when they set out to install their new photovoltaic panels in 2011. 
 "Getting the drive, energy and interest in the parish was never a problem," Mello said. "Our biggest challenge was the steep learning curve—how does the process work, what is the relationship between the company and the church, how do we go about this." 
During their viability assessment, St. Paul's discovered that the sanctuary roof was actually the least well-situated for solar panels, so panels were installed only on the parish house and on the roof of the wing connecting the parish house and the sanctuary. 
The panels on the roof of St. Paul's are owned by RePower Partners.  St. Paul's buys their energy back at a discount from RePower.  
A page on the parish's website allows anyone to see how the system is working: how many kilowatt hours it's producing, and how much carbon it is keeping out of the atmosphere as a result. This is an easy and interactive way for parishioners and others to see the impact the St. Paul's solar panels are having—both on utility bills and the health of the planet.
Mello said that he is glad St. Paul's is able to continue the tradition of solar panels not only for stewardship of the parish and the Earth, but also as a form of witness to passersby. 
"I was not prepared for how we became a witness to the public," he said. "Anyone walking by can see that we're a faith community that is committed to environmental stewardship. We get to be a prophetic witness to the public." 
St. Andrew's Framingham 
After their site evaluation, St. Andrew's in Framingham found that they were faced with both a blessing and a hurdle. The church is so perfectly situated for solar panels that their array generates four times the energy needed to run the church. This energy can be sold to other churches or non-profits, but learning the ins and outs of that process has been a learning curve. 
"There was a lot of learning about how solar works, how it would benefit us, how much of an investment would be required of us," said the Rev. Julie Carson, rector of St. Andrew's. "A lot of learning, a lot of waiting and a lot of excitement. All in all it's been a great journey."  
From inception to installation, the process has taken about a year.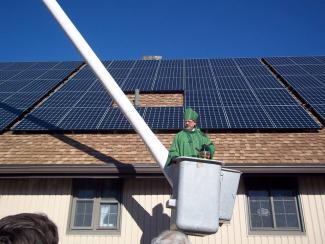 Esther Powell Bishop Cederholm blesses the array at St. Andrew's
"I saw that solar panels were appearing on residential buildings in Framingham and thought it would be a great thing for the church," Carson said. 
Carson began by organizing a group of parishioners with expertise and enthusiasm for solar power. A senior warden who has a background in sales, a member of the property committee who used to work with MIPL, and a member of the vestry who has a background in energy commodities were all instrumental to the process. 
"We put together a group of people who had a heart for it and people who had a real understanding of how solar works," Carson said.  
The group worked with Bishop Cederholm and Massachusetts Interfaith Power and Light to connect with Sunbug, a solar company that has a program specific to houses of worship.  They also drew on the experience of other churches in the diocese who had already installed solar. 
During their evaluation, the St. Andrew's group discovered the unique blessing that their large roof offered. 
 "That's wonderful but it means we have excess energy that we have to pay for, which is part of the deal with the investor," said Carson. "That was a hard process to learn how all of that works, and making the decision to have an array of panels that would just sustain us or a panel that would produce more energy that we needed." 
St. Andrew's array of panels was paid for by the Sunbug investor. They paid nothing for the panels upfront, and pay a monthly bill for the energy produced by the panels. Because they produce much more than the building requires, they are able to transfer the credits on their NStar account to another NStar meter. St. Andrew's now has agreements in place to sell their credits to two churches in Framingham. 
The plan to install solar panels was met with approval and excitement among parishioners. 
"Nobody was against it or worried it was going to be an eyesore," Carson said. "The parish has been on board since the beginning. When we found out our roof was perfectly situated, it was a no-brainer." 
In addition to solar panels, St. Andrew's has made many updates that help make their building energy efficient.   
"We've done a lot of work to make [our building] as green as possible," said Carson. "It's only about 60 years old, and in the past 15 years we've replaced all our windows, we've gotten a high efficiency boiler, we've replaced all our  bulbs with CFLs." 
Carson said that a church building with a smaller carbon footprint is an outward sign of a commitment to care for God's creation—as well as a way to cut down on energy spending. 
 "This is a way to use our building as a tool for ministry, and a way for us to be good stewards of our finances as well as the environment," she said. 
St. Bartholomew's Cambridge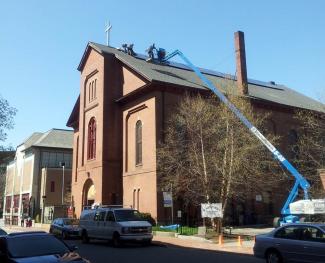 Courtesy photo Installing the solar panels on St. Bartholomew's Church At St. Bartholomew's in Cambridge, solar panels and overall energy efficiency are essential to allowing the church to be an open and inviting space for parishioners and the surrounding community.  The church, once open mainly on weekends, is now open six or seven days a week. The building hums with activity from the weekly community meal, the Cambridge Community Chorus, and many local groups using meeting space.  
"We're using the building much more than we used to, we're open every day except maybe Fridays," Senior Warden Stephen Mascoll said. "It used to be that we'd just come in on Saturday and turn the heat on, but now we're open all the time, so we've got to be efficient." 
St. Bartholomew's has leased solar panels on the roof of their church near Central Square. Mascoll said that in the winter months the church sometimes pays a small electric bill, but in the summer—thanks to longer days and stronger sunlight—they often earn a credit.  They will eventually have the option of purchasing the panels, if they should wish. 
 "For Leslie's installation [as rector] everyone was here, the bishops…I had our $0.00 electric bill up and people were so surprised," said Mascoll. "I think a lot of people didn't even know we were doing this." 
St. Bartholomew's has made a long-term commitment to sustainability. With support from an NStar grant, they changed all of their light bulbs to compact fluorescent light bulbs, resulting in a 36 percent savings on electricity. The upstairs of the church is newly insulated for efficiency, and the church has installed plexiglass and weather stripping on the windows to block cold air from entering and seal in heat. 
"It started out with people looking for ways to save money, but it really has developed into a Creation Care thing for us," said the Rev. Leslie Sterling, rector of St. Bartholomew's. "Maybe it was the Holy Spirit, but all of the sudden people were really interested and these dominos were falling, from the insulation of the roof to the weather stripping … Once we started down that track it snowballed in a positive direction." 
Through a green grant from the diocese, St. Bartholomew's has replaced one of its two oil boilers with a natural gas boiler. The new boiler was installed this fall, and the parish hopes to apply for a second grant to replace the other boiler.  
Despite being a small parish, St. Bartholomew's has found ways to offset or completely cover the cost of their energy efficient updates. 
"We're able to set an example for small parishes," said Sterling, "And show them that they can take advantage of grants to do these projects, too." 
Although it can take time to get energy efficiency projects moving, patience and dedication has paid off for St. Bartholomew's. Sterling said that Mascoll has been the leader in moving the projects from idea to completion.
"A project like this needs a champion, someone who does the paperwork and answers the emails, a person who will stick with it until it's done," said Sterling. "Stephen is the one who shepherded this from start to finish, and we're really grateful for that." 
Mascoll's advice to parishes just getting started on energy efficiency? 
"Be patient," he said, "And keep strong in your convictions." 
St. Barnabas Falmouth
For St. Barnabas Church in Falmouth, the installation of their solar panels is the conclusion of one plan and the launch of many more. The seed was planted in 2007, when a small group of parishioners formed the ad hoc energy study committee, setting out to assess changes the church could make to be better stewards of the Earth. The long-range goal outlined in their plan was to place solar panels on the roof of the church buildings. 
Although the St. Barnabas Environmental Committee is proud to have completed this years-in-the-making project, they are not slowing down now. 
"We believe passionately that as people of faith we are called to be good stewards of the Earth and of its people," said Al Kolodziejski, Chairman of the St. Barnabas Environmental committee. "We've accomplished a lot, but we knew that we could and always can find ways to do better."
Working with the Rev. Patricia Barrett, rector of St. Barnabas, the Environmental Committee began the process of installing solar panels on the church in earnest in 2012. This began with evaluating vendors, a proposal process, and several months of waiting for NStar to process their project. 
"We had some hurdles to go over," Kolodziejski said. "But we have to thank Patricia, the Vestry and the property committee for their openness and support. Everybody has been on the same page." 
The solar array at St. Barnabas was installed in November 2013. The new 26.4 KW solar system, comprised of 82 solar panels, will supply approximately 42 percent of the electricity used by the St. Barnabas campus. 
 "This is not the end, it's just the beginning," Kolodziejski said. "We're coming up with educational programs, becoming a catalyst." 
A recent major initiative of the St. Barnabas Environmental Committee has been coordinating signups for residential energy audits. Parishioners can sign up to have their homes audited for energy efficient by Cape Light Compact. These free evaluations show homeowners where there are opportunities for better insulation, CFL bulbs, low-flow shower heads, air sealing, and more. The evaluation includes education on the many opportunities for discounts and tax deductions that these energy-efficient updates can earn for homeowners. 
Kolodziejski anticipates that about 40 homes belonging to parishioners will have been audited after the upcoming round is complete. 
"And there will be more when they find out how much money their friends are saving!" he said.  
"We are focused on how we can protect the Earth in our own backyard, discussing how people can make their own space more efficient to care for God's Earth. If everybody does a little bit, a lot gets done." 
As interest in solar panels grows, a group of experienced solar enthusiasts from around the diocese is ready to offer support and advice.  This group, working with the Creation Care initiative, will connect parishioners at an interested church with a group at a church that has already installed solar. The hope is that this will make the process smoother, and keep churches from having to start from scratch when they begin a solar installation. These solar veterans can help guide others through the process of evaluations, contracts, and working with the Standing Committee to get approval for their new panels. 
 "The churches that do it feel a tremendous amount of excitement," said Jim Nail, "and it makes a great statement to the community, that this is a church that cares about taking action now to combat climate change." 
If you are interested in connecting with the solar group and learning more about whether solar can work for your church, please contact Esther Powell at epowell@diomass.org or 617.482.4826 x421.
-- Ellen Stuart