The Standing Committee of the Episcopal Diocese of Massachusetts announced today two additional candidates for election as bishop, having verified proper petitions and satisfactory background checks for both.  They are:

• The Rev. Timothy E. Crellin, Vicar, St. Stephen's Church, Boston; and
• The Rev. Canon Margaret (Mally) Ewing Lloyd, Canon to the Ordinary, Episcopal Diocese of Massachusetts.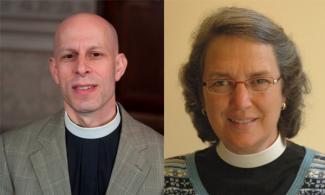 The Rev. Tim Crellin, The Rev. Canon Margaret (Mally) Ewing Lloyd
Crellin and Lloyd join the slate of nominees announced by the Standing Committee on Jan. 15:

•  The Rev. Holly Antolini, Rector, St. James's Church, Cambridge, Mass.;
•  The Rev. Ronald Culmer, Rector, St. Clare's Church, Pleasanton, Calif.;
•  The Rev. Alan Gates, Rector, St. Paul's Church, Cleveland Heights, Ohio;
•  The Rev. Ledlie Laughlin, Rector, St. Peter's Church, Philadelphia; and
•  The Rev. Sam Rodman, Project Manager for Campaign Initiatives, Episcopal Diocese of Massachusetts.

L-R: Holly Antolini, Ronald Culmer, Alan Gates, Ledlie Laughlin, Sam Rodman.
More information about each of the candidates is available at www.mabishopsearch.org. 

The additional candidates successfully submitted required signed petitions and application materials during a two-week petition period after announcement of the original slate.  Both have cleared background checks.
All seven candidates will participate in a series of open meetings around the diocese March 14-18, giving the people of the diocese an opportunity to meet and learn more about them.  Details are available at www.mabishopsearch.org.  The schedule of open meetings is as follows:
• Friday, March 14, 6:30 p.m., at St. Andrew's Church (79 Denton Road) in Wellesley;
• Saturday, March 15, 1 p.m., at Trinity Church (Copley Square) in Boston;
• Sunday, March 16, 4 p.m., at St. Stephen's Church (74 South Common Street) in Lynn;
• Monday, March 17, 6:30 p.m., at Grace Church (422 County Street) in New Bedford; and
• Tuesday, March 18, 6:30 p.m., at Christ Church (33 Central Street) in Andover.

The Standing Committee asks all congregations of the diocese to pray for the seven candidates by name, using a prayer available at www.mabishopsearch.org (text also included below).

The election will take place on Saturday, April 5 at the Cathedral Church of St. Paul (138 Tremont Street) in Boston.  All canonically resident clergy of the diocese and lay delegates (two elected from each of the diocese's parishes and missions) vote separately as "orders"; a majority of votes on the same ballot from both the clergy and lay orders is required for election.  (April 12 has been set as the date for reconvening, should the electing convention not complete its business on April 5.)
Pending consent from a majority of the Episcopal Church's diocesan bishops and a majority of dioceses (via their Standing Committees), the consecration of the bishop-elect is scheduled to take place on Saturday, Sept. 13 at the Agganis Arena at Boston University, with the presiding bishop of the Episcopal Church, the Most Rev. Katharine Jefferts Schori, presiding.

The current bishop, the Rt. Rev. M. Thomas Shaw, SSJE, became the 15th bishop of the Diocese of Massachusetts in January 1995.  In preparation for retirement, he plans to resign his office at the time of the new bishop's consecration September.
The Diocese of Massachusetts, among the Episcopal Church's oldest and largest, in terms of baptized membership, comprises 183 parishes, missions, chapels and chaplaincies in eastern Massachusetts.
# # #


The Standing Committee invites the diocesan community to join in using the following prayer:

Loving Creator, You call us together and send us forth to be your disciples in all places. We
are grateful for your leading, accompanying and directing as we discerned the candidates to be our next bishop. Now guide the hearts and minds of Holly, Tim, Ronald, Alan, Ledlie, Mally and Sam as they each discern a new call to be with us as a faithful pastor and teacher in Christ's name. Give them courage, joy and vision as we continue to draw closer to you. Continue to abide in us as we remain prayerfully open to the call of these candidates to serve as you lead. Make us all,candidates and people, open to your divine call so that together, our spirits may be transformed. We ask this in Jesus' name. Amen.

Oh Dios Creador de cielo y tierra, Tú nos has llamado y nos has enviado a ser tus discípulos y discípulas en el mundo. Te agradecemos el que nos hayas guiado, dirigido y acompañado mientras discerníamos los candidatos y candidatas para nuevo obispo. Con humildad te pedimos que guíes los corazones y las mentes de Holly, Tim, Ronald, Alan, Ledlie, Mally y Sam mientras que, en lo profundo de su ser, disciernen su propio llamado a servir en nuestra diócesis como fiel pastor y maestro, pastora y maestra en nombre de Cristo Jesús. Te imploramos que les prodigies fortaleza, alegría y visión mientras todos nos acercamos cada vez más a ti en este proceso. Mantente junto a nosotros y a nosotras mientras contemplamos y oramos con espíritus abiertos al llamado de estos candidatos al servicio que tú diriges. Haz que cada persona en este proceso estemos abiertos a tu divina llamada para que juntos como un solo cuerpo, podamos ser transformados de espíritu. Todo esto te lo pedimos en nombre de Cristo, Amén.
Related articles:
Meet the bishop nominees at March 14-18 public forums
Standing Committee receives petitions for potential additional nominees
Nominees annnounced for bishop election
Petition process announced for bishop election
Standing Committee gives bishop election update
Bishop election process is underway
Bishop Shaw announces retirement date
Application period closes Sept. 23
Nomination and application period is now open
Bishop coadjutor nomination and application period opens Aug. 5
Prayer requested for bishop election process
June Listening Events & survey announced
Committees named for bishop election process
Prayer & committee nominating process announced for bishop election
Standing Committee issues letter on Bishop Shaw's call for coadjutor election
Bishop Shaw calls for election of his successor