Whether you're on a family vacation or just making a day trip to the beach this summer, make sure to stop at one or more of eastern Massachusetts' Episcopal churches along the way for a dose of history, a prayerful interlude, some music on the lawn or a lobster roll.  Here is a sampling of just some of what you'll find this summer at churches located near vacation destinations.  Wherever you go, know that an Episcopal church nearby welcomes you.  (Visit our Find a Church pages where all of our churches are listed.)

Boston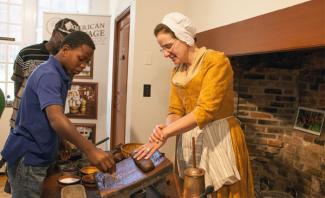 Learning about the history of chocolate at Captain Jackson's Chocolate Shop at Old North Church
Famous for its role in the story of Paul Revere's ride, Old North Church is still an active Episcopal church, as well as a stop on Boston's Freedom Trail. Sunday services are held at 9 a.m. and 11 a.m. (11 a.m. with music).  Visitors are welcome at any time from 9 a.m. to 6 p.m. during the months of June-October. Old North's educators offer a brief 5-7 minute presentation on the church, and visitors are welcome to explore the church on their own. For a more involved "behind the scenes" tour, check the Old North Web site for ticketing and reservations. Also be sure to stop by Captain Jackson's Chocolate Shop, which celebrates the history of chocolate in America and offers plenty of sweets for purchase and sampling. 
Old North is nestled in Boston's historic North End, and there is plenty to explore (not to mention eat) in the surrounding neighborhood. If your Freedom Trail travels take you to the Bunker Hill Monument or the Warren Tavern (a favorite haunt of Paul Revere and purportedly the oldest tavern in Massachusetts), you'll find yourself just steps away from St. John's Church in Charlestown.   
Completed in 1873, Trinity Church in Copley Square is located in the heart of Boston's Back Bay.  This architecturally significant church offers three worship services on Sundays, as well as guided and self-guided tours seven days a week.  Trinity is situated in one of Boston's busiest areas for restaurants and shopping, and is directly across Copley Square from the Boston Public Library, another attraction that will interest architecture buffs.  Also located in the Back Bay neighborhood is Emmanuel Church on Newbury Street. Emmanuel shifts gears for the summer, with worship in its Lindsey Chapel followed by "Chapel Camp," a series of activities, discussions and music performances. Check its Web site for the full schedule. 
Cambridge
Summer students, faculty, visitors and other guests of Cambridge's many universities can find an Episcopal church nearby. There are two within easy walking distance of the MIT campus: St. Peter's Church, located at 838 Massachusetts Avenue (Central Square), and St. Bartholomew's Church, located at 239 Harvard Street.
Christ Church, at Zero Garden Street, is just steps away from Harvard Yard and busy Harvard Square. It is neighbor to the Episcopal Chaplaincy at Harvard, which serves Harvard students.  A little further up Massachusetts Avenue from Harvard, you'll find St. James's Church in Porter Square. 
Surrounding Boston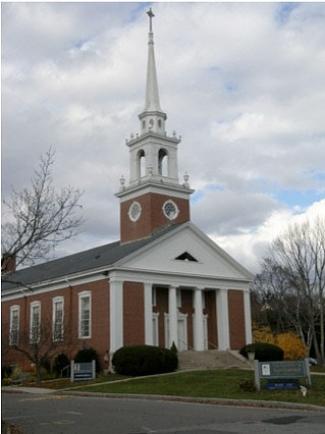 Our Redeemer, Lexington. If you are taking in the historic sites of Lexington and Concord, stop by the Church of Our Redeemer in Lexington for a service or just to walk the beautiful permanent labyrinth on the church grounds. Our Redeemer is located directly on Battle Green, where the Battle of Lexington took place, and is adjacent to the Lexington Visitor Center. The 11-mile-long Minuteman Bikeway, which runs from Alewife station in Cambridge to Bedford, passes through the churchyard. History buffs and literature fans alike will find plenty to explore in this area: Lexington and Concord were the sites of the first battles of the American Revolution, and Concord was once home to Ralph Waldo Emerson, Henry David Thoreau and Louisa May Alcott.  Trinity Church is located at 81 Elm Street in Concord.

North Shore/Cape Ann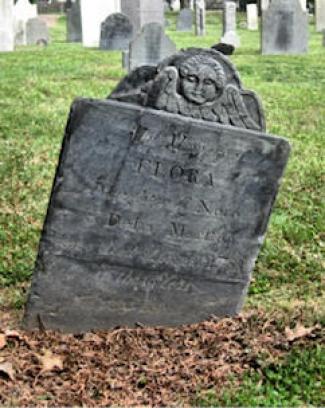 Centuries-old headstone in the St. Paul's, Newburyport churchyard.
Manchester-by-the-Sea: Emmanuel Church holds Sunday Eucharist from June to the end of August, and is a worship community for locals and summer visitors alike. The church hosts summer concerts (this year a program of music from the Baroque period) and a children's concert with "instrument petting zoo."  Visit its Web site for details and service times. 
Newburyport: Founded in 1711, St. Paul's Church is among the oldest continuing Episcopal churches in Massachusetts.  The burial ground also dates to the 1700's and contains the graves of many notable members, including the Rev. Edward Bass, the first American Episcopal bishop of the Diocese of Massachusetts, who served as rector of St. Paul's for 51 years. St. Paul's is located just a few blocks from downtown Newburyport, a vibrant coastal town with many restaurants and shops to explore. It also serves as a venue for the Newburyport Chamber Music Festival, which runs from Aug. 9-16.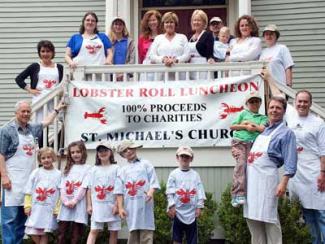 Serving up lobster rolls at St. Michael's, Marblehead Marblehead: St. Michael's Church has a full slate of celebrations planned for its 300th anniversary this year. The church invites the entire community to join them for their Fourth of July celebrations during the Marblehead Festival of the Arts. During the festival July 4-6, St. Michael's will be serving lobster rolls every day from 11 to 3, and inviting the community to explore the historic church, enjoy a free organ recital, ring the church's Revere bell, and even meet "Paul Revere". Check the St. Michael's website for the full schedule.  St. Andrew's Church contains the Cloister Gallery, featuring art from the more than 30 artists who call St. Andrew's home. The church also has a lovely outdoor labyrinth. 
Salem: This popular tourist destination includes landmarks such as the Peabody Essex Museum, the House of the Seven Gables (of Nathaniel Hawthorne fame) and the Salem Witch Museum, which commemorates the Salem witch trials of 1692. Downtown Salem has many shops and restaurants, and several waterfront dining options. Salem is home to two Episcopal churches: St. Peter's Church, which offers services in Spanish as well as English, and Grace Church, whose memorial gardens and walkway offer beauty and refreshment away from the city's summer bustle.
Ipswich: Visitors to Ipswich enjoy relaxing on four-mile-long Crane Beach, walking or paddling through nature reserves, exploring the opulent Crane Estate and strolling through historic downtown. Ascension Memorial Church is located within easy walking distance of downtown, and welcomes summer visitors.  
Gloucester: Gloucester makes a great weekend getaway, boasting beaches, a historic downtown, a thriving arts scene and plenty of opportunities to get out on the water, whether for a whale watch or deep sea fishing. St. John's Church in Gloucester celebrates one Sunday service at 9 a.m. during the summer months. 
South Shore
St. Stephen's Church at 16 Highland Avenue in Cohasset rings in its 89th annual carillon concert series this summer.  Bring a lawn chair and picnic supper to the Cohasset Common on Sundays through Aug. 18 and enjoy the 6 p.m. bell-ringing concerts, and then get a tour of the tower afterward.  St. Stephen's offers Holy Eucharist at 8 and 10 a.m. on Sundays and a healing service on Wednesdays at 9:30 a.m.
South Coast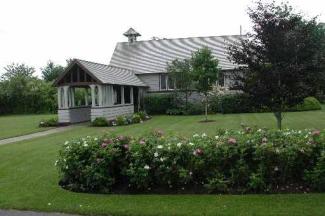 St. Aidan's Chapel, South Dartmouth
While visiting one of New Bedford's many museums and Whaling National Park, you'll learn about its maritime history and role in the whaling and textile industries, as well as its connection with Frederick Douglass and the Underground Railroad.  Be sure also to visit one of the city's three Episcopal churches whose establishment and histories are intertwined in the city's 19th-century industrial and immigrant growth:  Grace Church at 422 County Street; St. Andrew's Church at 169 Belleville Road; and St. Martin's Church at 136 Rivet Street.
South Dartmouth: St. Aidan's Chapel celebrates Holy Eucharist and Morning Prayer on Sundays from late June to early September. This clapboard chapel is nearly a century old. There are several public beaches nearby, including Demarest Lloyd State Park, Apponagansett Park and Jones Park. Visitors can enjoy the beaches of the South Coast, or take advantage of nearby ferries to Martha's Vineyard, Nantucket or Cuttyhunk. 
Mattapoisett : St. Philip of Bethsaida Chapel holds services from late June to early September. If you visit, be sure to note the chancel window that shows St. Philip with three fish native to Buzzards Bay: a scup, a striped bass and a bluefish. St. Philip recently marked its 125th anniversary. The chapel overlooks Mattapoisett Harbor, and it is adjacent to a town beach.   
Cape and Islands 
Plymouth: Christ Church offers a 5 p.m. service on Saturdays as well as two morning services on Sundays. If you happen to be in Plymouth on the 4th of July, stop by Christ Church for a hot dog and an excellent viewpoint for the Plymouth parade.   Christ Church's Lobster-Strawberry Fair happens Aug. 8-9, 10 a.m.-4 p.m.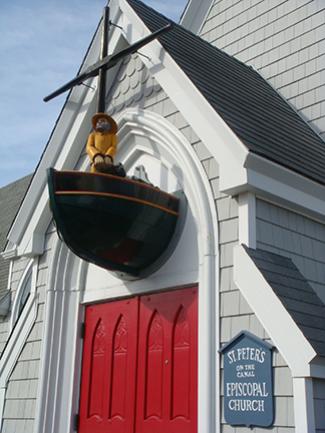 St. Peter's-on-the-Canal, Buzzards Bay Buzzards Bay: It's worth making a stop just over the Bourne Bridge at St. Peter's Church-on-the-Canal (165 Main Street) in Buzzards Bay.  The church building has had its own traveling adventures, having been hauled by barge, in 1947, across Cape Cod Bay from Hull, 60 miles away, to its present location. Visitors are greeted by Peter himself, in the form of a charming wooden carving of the fisherman-saint in his boat emerging over the church doors; inside, many nautical symbols in the sanctuary reflect the church's namesake and life near the sea.
Falmouth: St. Barnabas's Church's breathtaking waterfront location and after-service Lemonade on the Lawn make for a classically Cape Cod experience. The church serves lobster rolls on Mondays from 5-7 p.m. all summer, rain or shine. 
Woods Hole:  If you are waiting for an island ferry in Woods Hole, stroll a few blocks to visit the Church of the Messiah, a lovely 125-year-old stone church. Located in Woods Hole, one of the foremost scientific communities in the world, the Church of the Messiah hosts many international guests.  The "village church" has two services on Sundays.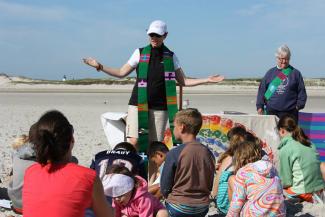 St. Mary's service on the sandbar, Barnstable.
Hyannis Port: St. Andrew's-by-the-Sea on Irving Avenue, with its distinctive stone tower, commands a stunning view out over Nantucket Sound.  This summer chapel offers 9 a.m. services on summer Sundays until the end of August.
Barnstable: St. Mary's Church has lovely gardens to visit, whether you are there for a service or simply passing by. St. Mary's hosts special services on the sand bar off Sandy Neck (call or check its Web site for details). It is also the host of the new Cape Cod Early Music Festival, which celebrates medieval, Renaissance and Baroque composers. The festival runs July 8-19. 
South Yarmouth:  On the way to Yarmouth's beaches, you can stop off at St. David's Church at 205 Old Main Street in South Yarmouth.  The labyrinth on the grounds is a peaceful spot for meditation.  Services are at 8 and 10 a.m. on Sundays, with refreshments served afterward.  St. David's claims one of the best pipe organs on the Cape.
Chatham: At the elbow of the Cape in Chatham, St. Christopher's Church, at 625 Main Street, offers Morning Prayer on Tuesdays at 9 a.m., and Holy Eucharist on Saturdays at 5 p.m. and Sundays at 8 and 10 a.m.  It also hosts concerts by men's and women's a cappella ensembles on Tuesday evenings in summer.
Orleans:  A little further along, you'll find the Church of the Holy Spirit at 204 Monument Road in Orleans.  It welcomes many summer visitors and offers several weekday services in addition to those on Sundays at 8 and 10 a.m.  The church was formed in 1933 and constructed from materials gathered from the remains of the Chequesset Neck Inn in Wellfleet after it was tossed into the sea during a Nor'easter.  The church's Galley West Shop, featuring hand-hammered aluminum objects crafted by church artisans, is open Monday-Friday during summer.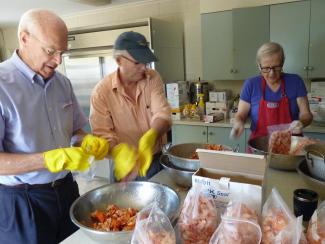 Making lobster rolls at St. Barnabas's, Falmouth Wellfleet: St. James's Chapel has a quintessential Cape Cod exterior, and a unique circular-layout interior. Wellfleet boasts restaurants, live music, local shopping and many summer festivals. Because the town sits on one of the narrowest parts of the Cape, it has both calm bay beaches and big wave ocean beaches. The chapel is only active during the summer months. 
Provincetown: The Church of St. Mary of the Harbor at 517 Commercial Street in Provincetown claims to have taken up recycling long before it became popular:  In 1919 several Episcopalians raised $2,500 to purchase an old house and transformed it into what is now the church, and soon afterward purchased the old Sand Bar Club, located on the west end of Provincetown, then disassembled, moved and attached it to the church to form the present space where the altar and choir are located.  St. Mary's offers Holy Eucharist on Sundays at 8 a.m. (in July and August) and 10 a.m., as well as a parishioner-led service on Saturdays at 8 a.m.  It's a great fireworks-watching location on July 4th and hosts a parish picnic that day.  It also offers an annual Art & Spirit Auction on July 12 and a Summer Fair on Aug. 2. 
Martha's Vineyard - Vineyard Haven: Grace Church has been selling lobster rolls for 27 years and is consistently a favorite among residents and visitors alike. Every Friday afternoon, May through September, Grace Church sells lobster rolls, hot dogs, pie, chips and beverages. Diners may choose to relax in the parish hall or at the picnic tables on the church grounds, or get an order packed to go.  Visit Grace's lobster roll page for details. 
Martha's Vineyard - Edgartown: St. Andrew's Church offers an expanded worship schedule in the summer months.  The design of the church is classic Martha's Vineyard, featuring a pair of Tiffany windows and a pulpit in the shape of a dory. Edgartown dates from the 17th century, and was for many years a thriving whaling town.
Martha's Vineyard - Oak Bluffs: The summer chapel of Trinity Church, across the street from the Steamship Authority wharf, was the first Episcopal house of worship built on Martha's Vineyard and offers a diverse schedule of visiting clergy at its 9 a.m. Sunday services.
Nantucket: If you are visiting this island escape, drop by St. Paul's Church for worship on Sunday or Wednesday morning. (Call or check Web site for times).  If you're not able to attend a service, it's well worth stopping into the church to view the beautifully restored Tiffany windows. 
Event and service schedules are subject to change; check Web sites or contact individual churches for information.  Does your church have summer events or points of interest to share? Send them for consideration to news@diomass.org. They may be added to this guide or the diocesan event calendar.